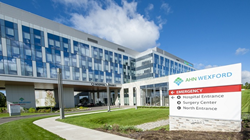 Since the opening of the hospital, AHN Wexford's highly skilled caregivers and staff have provided world-class care to patients in the setting of this beautiful, state-of-the-art facility.
WEXFORD, Pa. (PRWEB) November 01, 2022
Regarded as the leading source in the U.S. for construction-related news, Engineering News-Record (ENR) MidAtlantic has awarded AHN Wexford Hospital and its onsite parking garage as the 2022 'best project in health care.' Gilbane/Massaro served as the project's contractor, and HKS Architects & IKM Incorporated as the architects.
Allegheny Health Network's (AHN) newest, full-service hospital was reviewed alongside more than 60 projects throughout the Mid-Atlantic region, according to ENR, and was evaluated based on the ability of project teams to overcome challenges, contribution to the industry and community, safety and construction, and design quality. ENR MidAtlantic 'best project' winners were featured in the October issue of the magazine.
"Since the opening of the hospital just over one year ago, AHN Wexford's highly skilled caregivers and staff have provided world-class care to patients in the setting of this beautiful, state-of-the-art facility," said Allan Klapper, MD, president, AHN Wexford Hospital. "We are immensely grateful to our design and construction partners who, despite having faced a myriad of challenges related to the COVID-19 pandemic as the hospital was being built, remained committed to delivering a best-in-class hospital for this community without any delay."
Located along U.S. Route 19 in Pine Township, AHN Wexford Hospital opened its doors to patients last fall. The all-private, 160-bed hospital brings a full range of high-quality, innovative health care services to patients throughout the growing northern region of Allegheny County as well as adjacent communities of Butler, Beaver, Lawrence and Mercer counties.
The hospital includes a 24-bed emergency department with pediatric-capable rooms and dedicated pediatric hospitalists; state-of-the-art operating rooms with minimally invasive robotic surgery capabilities; cardiac catheterization lab and hybrid OR for advanced surgical procedures; short-stay observation unit; adult intensive care unit; labor & delivery unit; advanced diagnostic imaging; and more.
###
About the Allegheny Health Network
Allegheny Health Network (AHN.org) is an integrated healthcare delivery system serving the greater Western Pennsylvania region. The Network is composed of 14 hospitals, ambulatory surgery centers, Health + Wellness Pavilions, an employed physician organization, home and community-based health services, a research institute, and a group purchasing organization. The Network provides patients with access to a complete spectrum of advanced medical services, including nationally recognized programs for primary and emergency care, trauma care, cardiovascular disease, organ transplantation, cancer care, orthopedic surgery, neurology and neurosurgery, women's health, diabetes, autoimmune disease and more. AHN employs approximately 21,000 people, has more than 2,500 physicians on its medical staff and serves as a clinical campus for Drexel University College of Medicine and the Lake Erie College of Osteopathic Medicine.