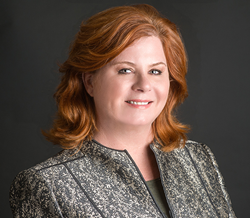 Karen brings extensive multinational expertise to the firm...
LEESBURG, Va. (PRWEB) October 23, 2019
AHT Insurance is pleased to announce the addition of Karen Dobson to the AHT team as Director of International Programs, based at our headquarters in Leesburg, VA.
Karen Dobson has over 25 years of experience in the acquisition, placement and management of complex, multinational accounts. Additionally, she is a nationally-recognized resource for government contractors, including compliance expertise with the Defense Base Act and international management implications for administering the Federal Acquisition Regulations.
Dobson serves as an educator for clients and peers within the international space. She develops content for companies, spanning the evolution from those considering overseas operations to those that have sophisticated multinational infrastructure. Her articles, advising government contractors about strategies for mitigating risk, have been published by Washington Technology, and she founded the annual conference Overseas Federal Contractors: Requirements Risks and Opportunities. For the last two years, Dobson also had the honor of running the Colin Powell Leadership Club, bringing mentors and inspirers to inner-city DC on a weekly basis.
"I am excited to be part of the AHT family because of the commitment to quality professional relationships, whether they be internal to the organization or external to our clients and risk management community. There is a reason AHT is consistently voted one of the top places to work, and it is an honor to be part of that team," says Dobson.
In her role as Director of International Programs, Karen will support both Commercial Lines and Employee Benefits initiatives, serving in an advisory role with placements, education and risk management services, as well as helping AHT further develop professional relationships within partner networks.
"We are excited to welcome Karen to the AHT team in this strategic role. Karen brings extensive multinational expertise to the firm and will help us deliver superior results to AHT clients that are global in nature," says Monica Gomez, Vice President of Client Services at AHT.