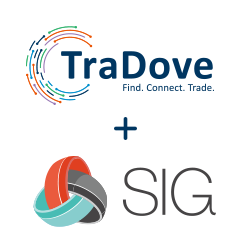 "We are very pleased to be moving forward with SIG, an organization sharing many of the same principles and ideas that we have also strived for in business"
PALO ALTO, Calif. (PRWEB) May 16, 2019
TraDove, Inc. announced today a partnership with influential procurement membership organization Sourcing Industry Group (SIG), in which TraDove is providing SIG a private social business network as well as the ability for SIG's companies, members, and subscribers to join TraDove's larger global B2B ecosystem. This partnership will aid SIG by connecting and matching its members and subscribers with the best-suited business buyers and sellers worldwide.
Benefits of the SIG Private Network
"TraDove built a private network that allows SIG to share information, create group discussions, and more," says Geoff Talbot, SIG's Chief Growth Officer, on the partnership, "This network is only accessible by our SIG members, which helps us build our own exclusive branded community to improve communication with our SIG member network."
SIG's tailored private network allows the organization a number of advantages moving forward:

Group discussions based on industry or interest allow for easy distribution of SIG's renowned thought leadership and networking content.
Members will find added ease of AI-powered buyer-seller matching in order to expedite business dealings.
Users registered as sellers receive notifications when buyers post relevant supply needs.
Buyers who post supply needs are effortlessly matched with sellers across the globe who can accommodate them.
Once a desired buyer or seller is found, SIG members may quickly and easily initiate a trade by sending their own customized proposal.
TraDove's Global B2B Ecosystem
Along with SIG's private network for business communication and industry networking, TraDove is proud to offer all users full access to their Global B2B Network, where they can reach out to verified buyers and sellers from around the world. In this ecosystem, buyers and sellers can send proposals and conduct trustworthy, low-cost, and secured trade using TraDove's B2B Blockchain Payment Solution, a first-of-its-kind dedicated platform for enabling blockchain-based credit scoring in the B2B space.
TraDove's B2B Blockchain Payment Solution embraces the ease and security of blockchain technology to allow SIG's members a simple, low-cost means of conducting their agreed-upon trades. By relying on a currency-pegged stablecoin, SIG professionals can conduct their trades with the assurance of TraDove and its banking partners, even over international borders.
In order to promote a thriving business ecosystem where deals can be made in confidence, TraDove authenticates all Social Business Network and B2B Blockchain Payment Solution users through its own proprietary authentication protocols. This process begins at registration and is overseen by TraDove before any user is allowed to access the network. After approval, democratic ratings by business partners and colleagues are used to maintain a user's reputation.
"We are very pleased to be moving forward with SIG, an organization sharing many of the same principles and ideas that we have also strived for in business," says Rowena Bonnette, Chief Marketing Officer of TraDove. Ms. Bonnette continued, "We hope to see SIG's members embracing the community we have set up in partnership with SIG, as well as exploring the new opportunities and connections that can be made in TraDove's global B2B ecosystem."
About Sourcing Industry Group (SIG)
SIG is a membership organization that provides thought leadership and networking opportunities to executives in sourcing, procurement, and outsourcing from Fortune 500 and Global 1000 companies and the advisors who serve them. SIG is widely known as a forum for sharing "next" practices and thought leadership through live networking events, virtual forums and a comprehensive online SIG resource center (SRC), which was developed by and for professionals in sourcing and outsourcing. The organization is unique in that it blends practitioners, service providers, and advisory firms in a non-commercial environment. SIG is also the parent organization for SIG University, a one-of-a-kind certification and training program for professionals and executives seeking deep expertise in sourcing and governance for themselves or their teams, as well as Future of Sourcing, a digital publication which provides unrivaled digital content for the opinion-formers and decision-makers at the heart of the outsourcing space.
After hearing the needs of the B2B space, we built a network dedicated to making the best-suited connections for buyers and sellers around the world. At TraDove, we match members with their ideal business partner, as well as new markets for their products and services, all of which are endorsed and reviewed by verified business professionals. Once users have made their new connections, they are able to collaborate on projects and conduct trades with our own Blockchain Payment Solution, the very first dedicated B2B blockchain. By enabling user authentication and blockchain-backed credit scoring in the B2B space, we are solving the trust and privacy issues in international trade.