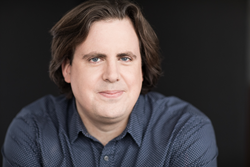 We are creating a tool that will allow people to quiet and control the content they consume.
MONTREAL (PRWEB) June 18, 2020
Philippe Beaudoin, Co-Founder of artificial intelligence firm Element AI, today announces the formation of a new tech start-up called Waverly, the world's first AI company that provides people with personalized, curated content across all platforms.
Waverly's "Empathetic AI" harnesses Natural Language Understanding to rethink traditional algorithms and allows for a deeper understanding of our wants and needs by allowing people to express thoughtful, nuanced preferences, in everyday language.
"Waverly is a direct response to the bifurcated nature of information delivery systems today. We are creating a tool that will allow people to quiet and control the content they consume," says Philippe Beaudoin, CEO of Waverly.
Co-founding partners are Michael Kronish, former Executive Vice-President at VICE Media and Patrick Fauquembergue, Executive Producer and Founder of Magasin Général Media. Sylvain Carle, industry veteran and former Twitter and Real Ventures executive, has joined Waverly as a formal advisor.
"Waverly was conceived to solve a problem we too experience daily. With limitless volumes of content being pushed at us, we are unable to discern where to go for quality content that actually serves our better selves," says Kronish.
"It's going to be a distinctly positive alternative to what is already out there. This is technology built for the person you want to be," says Fauquembergue.
Waverly received funding from FounderFuel, a mentor-driven accelerator, focusing on leadership development and growth to help early-stage start-ups make meaningful progress on the venture path. Backed by Real Ventures, Canada's most active seed-stage tech venture capital firm, FounderFuel has invested in 95 companies since 2011.
ABOUT WAVERLY:
Montreal-based Waverly is an AI company that creates technology for our better selves. For more information, contact media@thewaverly.co