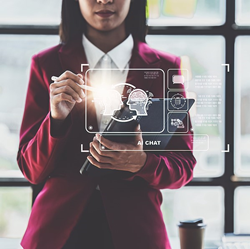 Recently, the buzz about ChatGPT and other advancements has attorneys carefully weighing the potential benefits and risks of AI.
HOBOKEN, N.J. (PRWEB) February 23, 2023
Messaging Architects, an eMazzanti Technologies Company and legal technology expert, explores the use of AI technology for eDiscovery in a new article. The informative article first asserts that AI already plays a role in the document review process as a key component of technology assisted review (TAR).
The author then discusses how recent AI advancements, such as ChatGPT, can be used to generate automated summaries of large document collections, allowing reviewers to plan their review strategy and focus in on relevant content more easily. He also discusses the potential time and cost savings, as well as improved accuracy resulting from the use of AI. He concludes by urging organizations to proceed cautiously with the adoption of AI technology as it matures.
"Recently, the buzz about ChatGPT and other advancements has attorneys carefully weighing the potential benefits and risks of AI," stated Greg Smith, Vice President of Services Delivery at Messaging Architects. "Implemented wisely, emerging legal technology options can deliver significant wins."
Below are a few excerpts from the article, "AI for eDiscovery Powers Time and Cost Savings but Caution Advised."
AI Already a Key Player in the Document Review Process
"A key application of AI, TAR substantially reduces the time required to find and organize relevant documents. An experienced attorney "teaches" the TAR software to recognize relevant documents based on examples. The system can then comb through thousands of documents in minutes and automatically classify them for review."
ChatGPT Opens Up New Potential
"GPT-3 (the latest full release of the ChatGPT tool) could assist eDiscovery by generating summaries of large document collections. With a summary in hand, human reviewers more easily plan their review strategy and focus in on relevant content. Additionally, GPT-3 can assist by providing context for key information."
Save Time and Money with AI for eDiscovery
"AI promises the potential to deliver significant time and cost savings to eDiscovery while improving accuracy. An efficient and timely early case assessment (ECA) can make or break a case. By rapidly identifying and prioritizing relevant data, AI reduces the amount of data that must be processed and reviewed. This both decreases costs and improves outcomes."
Proceed Cautiously with AI
"While AI offers tangible benefits to the eDiscovery process, legal teams must proceed carefully. The AI landscape is changing rapidly, and although new developments offer great promise, they also come with some risk. For instance, ChatGPT generates text that sounds very convincing but may not always prove factual because the tool lacks common sense."
Legal Technology Experts
Sorting through the hype to choose the right tools and use them effectively can prove challenging for law firms. The legal technology experts at Messaging Architects help firms explore the AI possibilities and determine the right fit for the organization.
Have you read?
Overcome Legal Firm Challenges with Wise Technology Investments
Law Firm Compliance Challenges Underscore Need for Renewed Cyber Security Focus
About Messaging Architects
Messaging Architects specializes in effectively managing and securing an organization's most precious asset, its information. With over 20 years of information management and technology consulting experience, the Messaging Architects team has provided corporations, educational intuitions, health care facilities and nonprofits with methodologies, procedures, and technology to keep their data organized, compliant and secure.
About eMazzanti Technologies
eMazzanti's team of trained, certified IT experts rapidly deliver increased revenue growth, data security and productivity for clients ranging from law firms to high-end global retailers, expertly providing advanced business cyber security, retail and payment technology, digital marketing services, cloud and mobile solutions, multi-site implementations, 24×7 outsourced network management, remote monitoring, and support.
eMazzanti's consistent growth landed them on the Inc. 5000 list 9X. Recognized as a 4X Microsoft Partner of the Year, the #1 ranked NYC area MSP, NJ Business of the Year, and 5X WatchGuard Partner of the Year, the company excels as a trusted outsourced IT partner! Contact: 1-866-362-9926, info@emazzanti.net or http://www.emazzanti.net Twitter: @emazzanti Facebook: Facebook.com/emazzantitechnologies.