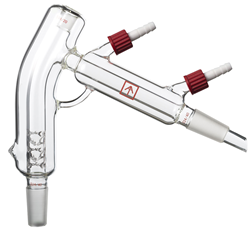 These heads are 75% more efficient than their predecessors.
LIVINGSTON, N.J. (PRWEB) September 26, 2018
Short path distillation is a popular process in the cannabis industry for refining crude cannabis oil and creating distillate. It uses heat and vacuum to vaporize terpenes and cannabinoids, which are then condensed in a receiving vessel, either for reclamation or disposal. While the cannabis oil collected in the receiving flask is golden and clear, the dark liquid leftover can be discarded. Usually, processors put it through two passes before the distillate is at the desired quality.
From the boiling flask, the vapors travel into the distillation head, where they are condensed and directed toward the receiving flask. Now, Ai Vacuum has just released two new straight heads for their short path distillation kits. One is for the 2-liter short path system. The other is for the 5-liter kit. These heads are 75% more efficient than their predecessors. Those with a bend take much more time to move distillate. With a straight head, the process is much faster.
These new straight heads have a bigger bore. The previous heads were 10mm in diameter, while the new heads are 15mm in diameter. Giving the distillate more room allows it to travel more quickly through the system. So how did we come to develop such a head? We base all our equipment designs and upgrades on customer feedback. Operators know what they need best, and our job is to accommodate them.
As with our other variety, these straight heads are made of durable, heavy wall, high borosilicate glass 3.3. This is the most heat, cold, and corrosive-resistant type around. These heads have a large vacuum jacket too, to retain more heat during the distillation process. Another interesting feature, its finely ground joints allow for a higher ultimate vacuum level. Each head comes with a boiling flask port 34/45, a distribution port 24/40 joint, and a thermo probe port 14/20. It also has a recirculating fluid port GL-16. In addition, these heads come with five sets of vigreux. Straight short path heads are just another innovation, brought to you by Ai Vacuum.
Ai Vacuum specializes in botanical refinement equipment. This is a subsidiary of Across International, an industry leader in heat treatment and material processing equipment manufacture. Its mission is to empower those advancing science by offering innovative and high-quality equipment, along with the best customer support.
For more information, please visit: https://acrossinternational.com
For press inquiries, contact:
Joseph George
Marketing Manager
888-988-0899 ext. 164
joseph(at)acrossinternational.com