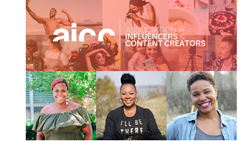 ..."influencers are driving billions of dollars in revenue — but we're not getting a seat at the tables we're helping to build."
DALLAS (PRWEB) July 09, 2020
The Association of Influencers & Content Creators (AICC), originally formed in March 2019, is the first and only official, trade organization committed to advocating for and securing protections for all digital creators — including fair wages, inclusivity, and access to affordable benefits.
Since its inception, AICC's mission has been organizing influencers and consumers to establish professional, ethical, diversity & inclusion standards — by strategically partnering with like-minded brands and organizations to legitimize our industry and ensure the consistency, longevity, and sustainability needed to propel it forward.
Our members are bloggers, YouTubers, podcasters, social media personalities, and other digital creators and thought leaders. Their work can be seen and heard on the internet, their own websites, across every social media platform, and most media distribution platforms. We influence, reach, and inform the masses in America and the world, and we strive to educate and engage members so that they may be full participants in the advancement of our industry.
According to Business Insider, the influencer marketing industry will be worth a whopping $15 billion by 2022, almost doubling it's $8 million valuation in 2019. Yet, influencers don't have the professional protections or considerations that many other industries provide.
"I've spent years trying to fight this battle on two fronts," said Tabitha Hawkins, Founder of AICC, and veteran content creator. "I've spent nearly two decades as an influencer and marketer for some of the biggest brands in the world, and the fact is that influencers are driving billions of dollars in revenue — but we're not getting a seat at the tables we're helping to build."
While there are many invite-only memberships for influencers, AICC is the first, and only to model inclusion and parity. "The beauty of being a content creator is that you're not limited by what you look like or how many followers you have. Whether you have 100 followers or 1 million, you deserve to have access to a community that helps you serve your audience and grow your business." Hawkins said. "Our industry doesn't need another secret club, for the top 25 cool kids. We need representation."
LEADERSHIP

SOCIAL MEDIA
Facebook: @associationofinfluencers
Instagram: @associationofinfluencers
LinkedIn: @associationofinfluencers