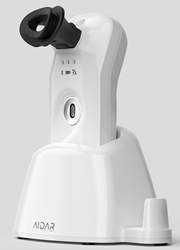 The FDA Clearance is an important milestone for Aidar Health as this application required rigorous regulatory review against high clinical and safety standards.
BALTIMORE (PRWEB) March 05, 2021
Aidar Health, Inc., a healthcare technology and digital medicine company, today announced it has received FDA Class II 510(k) clearance for its first product, MouthLab, a hand-held, non-invasive, rapid health assessment, and remote monitoring device that measures 10 vital health parameters in 60 seconds.
MouthLab was designed and developed by Dr. Gene Fridman and Sathya Elumalai in partnership with clinicians from the prestigious Johns Hopkins Medical Institute. MouthLab, paired with telemedicine can drastically reduce the burden on the healthcare system by effectively screening individuals at home and at other healthcare facilities, diverting traffic from emergency departments and providing data for clinicians to prudently allocate resources. By combining the insights from all the vital health parameters, MouthLab can create a new kind of personalized, people-centric experience that empowers individuals to make sustainable behavior and lifestyle changes and improve health outcomes.
"This landmark approval is a great validation of the technology and our broader thesis that rapid simultaneous measurement of a set of vital signs is a key enabler to the transition from standardized to personalized healthcare for all," said Sathya Elumalai, CEO and Founder of Aidar Health. "I'm extremely proud of our team's achievement overcoming all the challenges posed by the pandemic to receive this clearance, especially considering the fact that this clearance covers 10 vital medical parameters in a single 510(k) application."
This 510(k) clearance of the MouthLab from the FDA comes close on the heels of the CE Mark Approval received by Aidar Health in early February. Ankitha Nair, Head of Quality and Regulatory Affairs at Aidar Health says, "The COVID-19 pandemic has helped accelerate the proliferation of remote monitoring technologies including devices that are directed at non-regulated consumer-oriented applications. Our focused approach and commitment to developing medical-grade devices that are clinically-validated and cleared by the FDA is a key pillar of the company's long-term vision and pivotal to secure the trust of not only the users and caregivers but also our partners including healthcare providers, pharmaceutical companies, clinical research organizations, and health plans."
"This is a defining moment for the digital medicine sector and we are excited to finally bring our device and proprietary technology to clinicians, scientists, and patients who need it most. Especially for individuals with chronic diseases experiencing sporadic care and reactive care, Aidar's technology would enable efficient condition management at home through real-time data transfer and communication with their care provider. This is a profound improvement that would enable person-centered care to become a reality," says Jenny Mathew, co-founder and Chief Nursing Officer at Aidar Health.
Recognizing the potential of MouthLab in clinical trials and chronic care management, Aidar Health was awarded the prestigious National Science Foundation SBIR funding in 2020 to accelerate the development of a scalable and flexible cloud-based enterprise platform for physicians to capture and analyze MouthLab and/or external device data. Dr. Anna Brady-Estevez, Program Manager, NSF SBIR Program, said "America's Seed Fund powered by the National Science Foundation supports disruptive innovations with commercial potential and societal benefits. The ability to measure multiple health parameters quickly, at the point of care, has the potential to transform remote and in-home care. This is an opportunity both for the ongoing COVID pandemic and beyond in terms of care management and prioritization. Remote monitoring and associated cost reductions can extend resources more broadly to the geographically underserved who live further from medical care, and other disadvantaged populations."
This 510(k) clearance of the MouthLab Vital Signs Monitoring System is the first in a series of regulatory clearances that Aidar Health is seeking, to expand its growing portfolio of innovative breath- and saliva-based sensors and proprietary analytics capabilities.
"We have been receiving overwhelming interest from multiple stakeholders across the healthcare ecosystem to integrate our solution into various health data systems, including telehealth, tele-ICUs, clinical trial management platforms, and telemetry. We aim to commence our Series A fundraise in April to advance the MouthLab commercialization efforts and to develop evidence-based therapeutics interventions for patients with unmet clinical needs, from post-acute care to preventive care," said Ganapathy Premkumar, Director of Finance & Strategy at Aidar Health.
"By combining a single device with connected technology, and innovative data science with genuine care, we could improve satisfaction, reduce overall healthcare costs, and deliver quantifiable and sustainable health outcomes compared to the status quo," said Sathya Elumalai. Ultimately, Aidar Health aims to create a unified, convenient, cost-effective, high touch care delivery solution that extends beyond the hospital to radically enhance the monitoring and treatment options for patients with chronic conditions.
About Aidar Health
Aidar Health (fka Multisensor Diagnostics) is a fast-growing healthcare technology and digital medicine company with the mission to enhance the quality of life of patients with chronic conditions. Aidar Health aims to design, develop, and deliver clinically-validated breath- and saliva-based sensors and evidence-based therapeutic interventions for various chronic conditions, including heart failure, Chronic obstructive pulmonary disease (COPD), infectious disease (i.e., COVID-19), and chronic kidney disease among many others. Aidar Health seeks to provide improved health outcomes for users through precision medicine, smarter engagement and tracking tools for providers and caregivers, drug and treatment validation tools for biopharmaceuticals, and cost-effective solutions for payers. Aidar has built a revolutionary medical device, MouthLab, and a cloud-based enterprise platform, which leverages proprietary AI and machine learning algorithms, to create a new paradigm for precision medicine.
For more information, visit: http://www.aidar.com