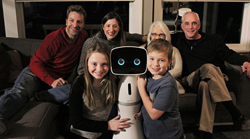 Most in-home AI isn't this anthropomorphic. ( like Aido ) - Popular Science
Ca, Palo Alto (PRWEB) May 28, 2017
InGen Dynamics Inc (Aido) today announced that it has made significant progress on the Aido Home Robot project launched 12 months back. The company recently released a prototype video to early backers and the company investors showcasing some of the functionality developed.
The demonstrated features include - Multiple Face Recognition, Emotion recognition, New Face enrollment / training, Speech recognition, Projector operation, App Box, Learning Center, Android Games, Companion App with telepresence functionality and remote control of Aido, Environment Sensors, Smart Devices interaction, Facebook integration, Story Teller application with libraries available, Health Application, House Maintenance Application, Barcode scanner for Grocery items and recipe locator, Behaviour Editor for Aido, Personality Engine and loading different personalities, Automate Application, Scene recognition among others.
From a a successful crowdfunding raise ( ~ $850K ) ranked second most successful home robot campaign of all time, to securing commitments of $300K in Title III ( online mini-IPO ) investments with 345 investors globally at a $12 Million valuation, to prototyping the Aido design across 3 generations, InGen has had an eventful year so far.
"Whether it's playing with the kids, assisting with chores, managing your schedule, integrating with other smart home devices, patrolling the hallway after you've gone to sleep, or helping out with anything from a cooking recipe to learning the piano, there's little that Aido can't do!" - Arshad Hisham, CEO of InGen Dynamics commented.