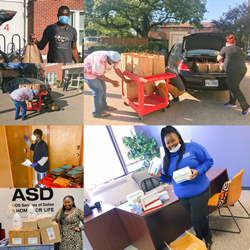 We have had to adapt to changing our way of providing meals and services to our residents thru this COVID-19 pandemic are grateful for the continued support of our community and our donors. – Traswell C. Livingston III, President and CEO
DALLAS (PRWEB) May 22, 2020
AIDS Services of Dallas (ASD) leadership teams have been working around the clock to stay on top of the evolving COVID-19 situation to ensure both excellent care, as well as community partners and visitor safety. Our main concern, as always, is the health and well-being of our residents and staff. In accordance to requests from the Dallas County Health and Human Services office, ASD has been providing on-going information to Staff to utilize as a guide for operations during the COVID-19 (Coronavirus) Pandemic.
Here are some of the things we have been implementing and will be continuing to implement to all of our residential facilities:
1. No visitors will be allowed on property thru June 1, 2020.
2. All meetings are being held remotely or via phone when possible.
3. Transportation - Transportation continues for essential use only. Recreational travel for miscellaneous shopping needs for our residents has ceased. Medical Transportation is continuing only for essential appointments relative to compliance and or urgent care.
4. Residential staff including Medical Case Managers, Housing based/Non-Medical Case Managers, Residential Coordinators and Maintenance are working under the guidance of their supervisors as necessary for coverage.
5. Client Service Assistant (CSA) and Personal Care Aides (PCAs) are continue their work flow as usual as possible. Scheduled sanitation has been increase to multiple times per shift.
6. Intake/Outreach and Vocational Coordination has been transformed to teleservice and zoom until further notice.
7. Food Service, specifially breakfast and lunch that is provided by ASD kitchen continues their work flow with routine sanitation occuring multiple times per shift. Meals are no longer being served in facility dining halls, but delivered to residents in the homes with the assistance of other ASD staff who are following strict guidelines including wearing masks and gloves.
Supper Clubs – All Supper Clubs (evening meal service) have received notification that no outside visitors are allowed on campus until further notice. Supper Clubs have been requested to have food delivered to the facilities in order to provide the residents meals. These meals are dropped off at the front doors/gates of the facilities and distributed to the apartments of the residents by ASD staff who are following strict guidelines including wearing masks and gloves.
8. Administrative Staff including CEO, COO, CFO, Development Director, Human Resources, I.T. Program Data Analyst, Accounting and Volunteer Coordinator are working. However, administrative office is closed to all outside visitors.
We continue to monitor the changes as they are reported and required and make updates needed.