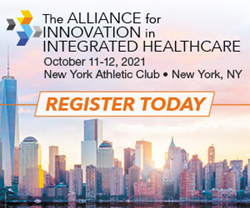 CRANBURY, N.J. (PRWEB) September 07, 2021
The Alliance for Innovation in Integrated Healthcare (AIIH) Summit & Educational Program is a 2-day conference being held on October 11-12, 2021, in New York, with a virtual attendance option, and featuring keynote sessions that include faculty from every domain of the healthcare continuum. The AIIH Summit aims to bring together multidisciplinary panels to provide attendees with a multifaceted view of problems and solutions in healthcare.
"Fragmentation is a major issue in healthcare," said Lawrence Cho, AIIH Co-Chair and Chief Strategy and Growth Officer at Allina Health. "As innovation continues to occur, we need the different sectors of the health system to come together as an industry to move healthcare forward. The Alliance for Innovation in Integrated Healthcare is driving us toward integration and reducing fragmentation."
The AIIH Summit & Educational Program keynote sessions include:
Boldly Going Where None Have Gone Before: Collaborating to Create a Preferred Future
Moderator: Scott Ransom, MD, Partner, Health & Life Sciences, Oliver Wyman
Faculty:

Craig Samitt, MD, MBA, President & CEO, Blue Cross Blue Shield of Minnesota
Simeon Schindleman, CEO, Bright Health Plan
Jennifer Bryant, Executive Vice President, Policy and Research, PhRMA
David Schulkin, MD, Former Ninth Secretary, US Department of Veterans Affairs; Former President, Morristown Medical Center, Atlantic Health System
Issues and Challenges in Innovating
Moderator: Lawrence Cho, Senior Vice President, Chief Strategy & Growth Officer, Allina Health
Faculty:
Rick Gilfillan, MD, MBA, Former President & CEO, Trinity Health
Tom Scully, JD, General Partner, Welsh, Carson, Anderson & Stowe
Keynote Session with Peter Pronovost, MD, PhD
Faculty:
Peter Pronovost, MD, PhD, Quality & Clinical Transformation Officer, University Hospitals Professor, Department of Anesthesiology and Critical Care Medicine, School of Medicine and School of Nursing, Case Western Reserve University
Management vs. Leadership: The Courage to Make a Difference
Faculty:
Kenneth Braithwaite, Former 77th US Secretary of the Navy, Former US Ambassador to Norway, and Healthcare Executive
"Key stakeholders can expect honesty, debate, and new perspectives at the Alliance for Innovation in Integrated Healthcare Summit & Educational Program. My hope is that they will leave the conference with a better understanding of the challenges of other players in healthcare and find ways to compromise," said Bill Frack, AIIH Co-Chair and Chief Development Officer at Wellnecity.
Join AIIH for the only conference with the goal of producing results! In alignment with the New York Athletic Club, live attendees will be required to be vaccinated against the COVID-19 virus. If you are traveling to the conference from out of state, please be prepared to show proof of vaccination. Attendees can also opt to join the conference virtually.
All can request an invite and capitalize on the power of partnerships: http://aiih-online.org.
Interested parties can also sign up for updates on speakers, agenda items, and more, by visiting: http://bit.ly/AIIHsubscribe.
The Lynx Group is the official management and marketing company of AIIH.
About the Alliance for Innovation in Integrated Healthcare
The Alliance for Innovation in Integrated Healthcare (AIIH) is a 501(c)(6) healthcare organization dedicated to the education and exchange of knowledge among all stakeholders in the integrated healthcare system. AIIH is a national organization dedicated to improving healthcare delivery through collaboration. Improved collaboration in healthcare delivery has been cited as a key predictor for successful innovation and overall healthcare reform. AIIH believes that full participation of all involved in the continuum—providers, payers, suppliers, supporters, etc—will yield actionable improvements for the future. The central value of AIIH is the opportunity to co-create through open discussion and evaluation of innovation to improve the delivery and overall value of care now and in the future.
About The Lynx Group
The Lynx Group (TLG) is a premier medical communications and education company acutely focused on oncology and rare disease states. TLG specializes in market access to and with advanced practice providers, patients, and their caregivers. With more than 100 years of combined senior leadership experience, TLG continually creates award-winning medical education and cultivates strong relationships within proprietary brands serving patients and their caregivers, physicians, payers, nurses, pharmacists, navigators, and practice managers.
TLG has broad and deep experience in crafting custom, award-winning solutions for life science and biotech companies. Currently, TLG partners with more than 50 of the top pharma and biotech companies globally. TLG proudly serves as co-founder and association management company of the Academy of Oncology Nurse & Patient Navigators (AONN+), the Association for Value-Based Cancer Care (AVBCC), and the Alliance for Innovation in Integrated Healthcare (AIIH).