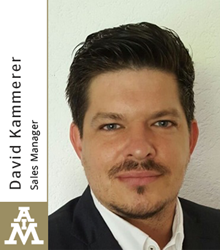 CRANSTON, R.I. (PRWEB) August 19, 2019
AIM Solder, a leading global manufacturer of solder assembly materials for the electronics industry, is pleased to announce the appointment of David Kammerer to the position of Sales Manager for the DACH region in Europe.
David will be responsible for new business development as well as providing support to existing AIM customers throughout Germany, Austria and Switzerland. He will also play a key role in supporting the company's strategic efforts with its multinational customers and guiding marketing programs in the region.
With an education in wholesale and foreign trade, David brings 16 years of experience in sales and distribution, a number of which were spent working with AIM distributors. This unique experience makes David an important asset to the company's expanding efforts in this important region. David has seen the many changes in the German system component manufacturing industry and his expertise will help support AIM's rapidly growing customer base in that area.
"We are pleased to welcome David to our sales team," said AIM's Executive Vice President, David Suraski. "David is well-versed in the SMD process and already extremely knowledgeable of AIM's products and services. I am confident that David will be a great addition to AIM's sales and support network that is already in place."
David may be reached by phone at +49 151 5188 1881 or by email at dkammerer@aimsolder.com.
About AIM
Headquartered in Montreal, Canada, AIM Solder is a leading global manufacturer of assembly materials for the electronics industry with manufacturing, distribution and support facilities located throughout the world. AIM produces advanced solder products such as solder paste, liquid flux, cored wire, bar solder, epoxies, lead-free and halogen-free solder products, and specialty alloys such as indium and gold for a broad range of industries. A recipient of many prestigious SMT industry awards, AIM is strongly committed to innovative research and development of product and process improvement as well as providing customers with superior technical support, service and training. For more information about AIM's complete line of advanced solder products and global technical services, please visit http://www.aimsolder.com.
Upcoming Events:
September 24-25, 2019 – SMTA International – Rosemont, IL
October 8, 2019 – SMTA New England – Boxboro, MA
October 10-12, 2019 – Productronica South China – Shenzen, China