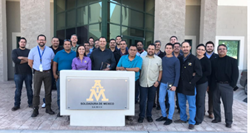 CRANSTON, R.I. (PRWEB) November 08, 2018
AIM Solder, a leading global manufacturer of solder assembly materials for the electronics industry, was pleased to host a technical seminar for its customers at AIM Soldadura de Mexico on October 25th, 2018. AIM Soldadura de Mexico is one of the largest and most prestigious solder manufacturers in Mexico.
In the company's state-of-the-art applications lab, Manuel Munguia, Senior Technical Support Engineer, gave a number of demonstrations on topics such as profiling, sampling a solder pot and measuring flux applications. While highlighting the benefits and implications of finer mesh solder powder on critical aspects of solder paste performance, attendees also got a better understanding of key variables. This included powder size, effect of room-temperature storage, pause time and PCB feature types.
With AIM's continued success in Mexico throughout the last 20 years, our commitment to train and support our employees and customers is ever-growing. These technical seminars, hosted in our facilities, are an integral part of this process.
About Manuel Munguia
Manuel Munguia is a Certified IPC Specialist with over fifteen years of experience in the solder assembly materials industry, four of which came from his former position with AIM as a Technical Applications Engineer. In his current role as Senior Technical Support Engineer, Manuel is responsible for supporting key corporate accounts in Mexico, Central and South America.
About AIM
Headquartered in Montreal, Canada, AIM Solder is a leading global manufacturer of assembly materials for the electronics industry with manufacturing, distribution and support facilities located throughout the world. AIM produces advanced solder products such as solder paste, liquid flux, cored wire, bar solder, epoxies, lead-free and halogen-free solder products, and specialty alloys such as indium and gold for a broad range of industries. A recipient of many prestigious SMT industry awards, AIM is strongly committed to innovative research and development of product and process improvement as well as providing customers with superior technical support, service and training. For more information about AIM, visit http://www.aimsolder.com.
Upcoming Events:
November 14-15, 2018 - SMTA Guadalajara – Guadalajara, Mexico
November 15, 2018 – SMT Assembly Technology Seminar – Shanghai, China
November 28, 2018 – SMTA Silicon Valley – San Jose, CA