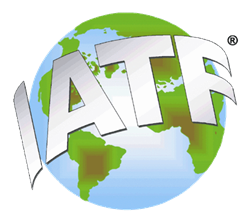 CRANSTON, R.I. (PRWEB) June 26, 2019
AIM, a leading global manufacturer of solder assembly materials for the electronics industry, is pleased to announce that it successfully earned IATF 16949:2016 certifications for its facilities in Poland, Canada and Mexico. IATF certification projects are underway at all AIM facilities to align with the company's global footprint.
The IATF 16949 standard is held in high regard throughout the automotive industry worldwide. AIM's certification reflects its commitment to this industry as well as its overall dedication to continuous improvement in areas such as quality, efficiency, cost-effectiveness.
"This certification is a prodigious milestone for AIM," said AIM's Executive Vice President, David Suraski. "The certification process is rigorous and represents a tremendous amount of effort on behalf of the entire AIM Solder team. Earning the IATF 16949 certification solidifies AIM's position as a global leader in solder assembly solutions for the automotive industry and beyond."
About AIM
Headquartered in Montreal, Canada, AIM Solder is a leading global manufacturer of assembly materials for the electronics industry with manufacturing, distribution and support facilities located throughout the world. AIM produces advanced solder products such as solder paste, liquid flux, cored wire, bar solder, epoxies, lead-free and halogen-free solder products, and specialty alloys such as indium and gold for a broad range of industries. A recipient of many prestigious SMT industry awards, AIM is strongly committed to innovative research and development of product and process improvement as well as providing customers with superior technical support, service and training. For more information about AIM, visit http://www.aimsolder.com.