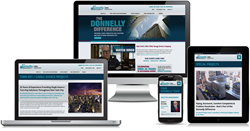 The success of your website depends on how well it aligns with what your audience is interested in and trying to achieve at that moment.
Lake Success, NY (PRWEB) May 19, 2015
AIMG (http://www.aimg.com) recently launched the new mobile-friendly, fully responsive website it designed for Donnelly Mechanical, a leading New York City HVAC contractor. Focusing the project on Donnelly's buyer personas, AIMG developed content and design elements to align with the current needs and interests of Donnelly's varied target audience groups. The goal was to set the stage for conversion and achieving trackable, quantifiable business goals.
"Donnelly is a well-established company that serves a distinguished list of clientele representing some of the city's most prestigious buildings," said Joe DeMicco, Founder and CEO of AIMG. "Before any content was developed, it was critical for us to understand the various buyer persona types that represent Donnelly's ideal clients. We met individually with each of Donnelly's department heads to develop profiles not only for the various buyer personas but also for each faction of the Donnelly team, from executive right through to the service guys in the field. This type of in-depth profiling allows us to develop content and communication initiatives that resonate and align with the intended audience, whether it is a loyal client, new prospect, or a member of the Donnelly team. Additionally, Persona Development empowers Donnelly to develop the right offers, programs, and communications for the right audience at the right time, such as aligning with seasonal needs or buying cycles, in order to achieve the desired business results. The process is a type of due diligence that gives you the insight you need to make an intelligent, informed plan designed to get you to your goal. Once everything is developed and in place, we continue to track and analyze behavior and the effectiveness of the content to make sure it is achieving what it needs to. Making timely adjustments is also part of the process."
The new website is a fully responsive design that can be accessed from virtually any device, including Smartphones, tablets, phablets, laptops, and desktops. Working closely with Donnelly's executive and marketing teams, AIMG developed messaging and images that allow Donnelly to be understood in ways that are important to them and meaningful to their targeted buyer personas.
"A website is a business tool," explained Joe DeMicco. "More than a calling card, it is a communication platform where you have the opportunity to attract and persuade visitors to establish a business relationship with your company. The success of your website depends on how well it aligns with what your audience is interested in and trying to achieve at that moment. Bottom line: you have to know your various audience groups, or as we say, your targeted buyer personas; otherwise, you're just guessing and you may as well be tossing coins in a fountain. Our experience proves you get better results with intelligent planning based on verifiable information. It is the way we approach everything we do, whether it is website design, content development, or management of a marketing campaign. Our business is to bring business to our clients. We have found that the best way to do that is to know as much as we can about our clients and those they serve. Our strategic Buyer Persona Development facilitates that understanding on a profound level."
The Donnelly Mechanical website is available at http://www.donnellymech.com. Information about Buyer Persona Development and Website Development is available at aimg.com.
About AIMG
Established in 1994, AIMG is a HubSpot certified inbound marketing and web development firm that works with companies of all sizes as a marketing and business development partner. Over the past two decades, AIMG's diverse team of in-house specialists have worked on thousands of successful web development, branding, sales/lead generation, and new market penetration projects, becoming a trusted partner to small business, medical, industrial B2B, non-profit, and corporate enterprises. With extensive experience working with marketing managers and business owners from start-ups to Fortune 500s, AIMG is valued for its deep knowledge of the digital landscape and custom strategies based on clients' unique needs and goals. Watch AIMG's Small Business Solutions video to learn more about how AIMG brings Business to business. Visit http://www.aimg.com or call toll free 1-888-291-0037 to learn more.
About Joe DeMicco
Joe DeMicco (http://www.linkedin.com/in/joedemicco) is a digital marketing and strategic growth specialist with more than 20 years of experience successfully helping B2B and B2C clients across industries grow their businesses. He is Founder and CEO of AIMG (formerly Accurate Imaging, Inc.), an integrated marketing and web development firm he started in 1992. A recognized small business authority and an alumnus of the "Goldman Sachs 10,000 Small Businesses" program, Joe is now a frequent panelist and presenter to current cohorts. He has contributed to the Huffington Post, been quoted by Newsday, and been featured on Small Business Administration Radio. Joe has also been invited to speak on a wide variety of marketing and small business development topics at a number of professional organizations including St. John's University and La Guardia Community College. In addition to this, Joe offers business development Tips on his blog http://www.demicco.com.