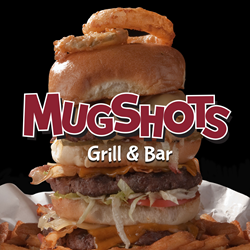 "Havin' A Good Time!"
Tupelo, MS (PRWEB) May 25, 2015
On Tuesday, June 2nd, Mugshots Grill & Bar: Tupelo, MS will be opening the doors of its newest location on Main Street in the Fairpark District. This opening will be the 6th Mugshots location in Mississippi. The weekend of May 29-31, Mugshots will host their soft opening "Eat Good, Give Back" fund-raising event. Proceeds from this 3 day event will be donated to the Tupelo-Lee Humane Society in a check presentation Tuesday morning before the company opens its doors to the public at 11:00am. All media and public are invited to the check presentation Tuesday, May 2nd, at 10:30am.
Mugshots Tupelo has seating for over 200 people inside, an open air wrap-around patio that seats up to 80 people, over 20 big screen TVs located throughout the restaurant and patio, and a covered fire pit. The bar is constructed of copper and wood, custom copper gutters, and features 36 taps. "The building is built with reclaimed brick from a textile mill in North Carolina, along with reclaimed wood and tin from a cotton gin in Louisiana." said franchisee owner Johnny Robbins. "Centry Construction, Architect Curtis Root, and Interior Designer Joan Sanders have created something that is one-of-a-kind."
About Mugshots Grill & Bar
Mugshots Grill & Bar is one of the South's favorite restaurant concepts serving up great food in a fun, casual, and family-friendly atmosphere. We are dedicated to giving back to the communities in which we operate with our nonprofit organization "Making Life Grand." We pride ourself on our "Havin' A Good Time" culture and now have 13 locations in Louisiana, Mississippi, and Alabama.