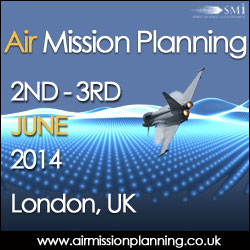 London (PRWEB UK) 28 April 2014
For the past few years, U.S. airmen and Eastern European countries have been cooperating on interoperability and planning activities across the region. With the growing tension in Eastern Europe, U.S. airmen have aided air forces in Poland, Slovenia, Lithuania and a dozen other Eastern Europe and Western Asia nations in aerospace terminology, search and rescue, mobility aircraft maintenance, expeditionary air capability and base security.*
Master Sergeant. Simon Merfeld, superintendent of the air adviser branch stated:
"It's an opportunity to exchange information...to take away what we can from their best practices and learn something else about our capabilities."
The concept and benefits of joint planning in modern operations will be discussed in greater detail at the Air Mission Planning conference Two exceptional presentations to focus on this topic include:
Keynote Presentation on: Armed Forces of Ukraine in international operations
Presented by: Lieutenant General Sergei Drozdov, First Deputy Commander, Ukrainian Air Force

The main areas of cooperation between Ukraine and foreign countries in the military sphere
The tasks of the Armed Forces of Ukraine in the international operations
Conditions and factors affecting the use of the Armed Forces of Ukraine in the international operations
The impact of the experience of local wars and armed conflicts on the Armed Forces of Ukraine
Developing an air force capable of handling future threats
Presented by: Joe Kay, Co-owner and Director, Effective Direction

Developing an interoperable air force
What are the requirements for the future you need to be planning for now?
How can you look to integrate systems and processes
Click here to view the full conference programme.
To take part in the latest discussions regarding air mission planning, you can secure your attendance today alongside the industry's key government officials, senior military representatives and experts within the field.
The £100 early bird expires on the 30th April. To register or for further information please the event website at http://www.airmissionplanning.co.uk
Alternatively contact the team on: +44 (0) 20 7827 6064 or email: wyoule(at)smi-online(dot)co.uk
---------------------ENDS---------------
About SMi Group
The SMi Group is a highly professional, independent and global event-production company that specializes in Business-to-Business Conferences, Workshops and Masterclasses, and online Communities. The SMi Group creates and delivers events in the Defence, Security, Energy, Utilities, Finance and Pharmaceutical industries. For more information, please visit http://www.smi-online.co.uk