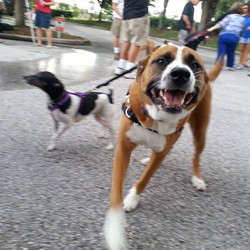 Tampa, FL (PRWEB) December 15, 2022
A canine influenza outbreak is spreading across the southern U.S.—Tennessee, Texas. South Carolina, Alabama and elsewhere. It can quickly spread around the world because more people now travel and relocate with their pets. Air Animal urges all dog parents to vaccinate their dogs against canine influenza before relocating, traveling or any visit outside the home.
"People take their dogs with them everywhere today," warns Walter M. Woolf, VMD, founding veterinarian and CEO at Air Animal Pet Movers. "Going to the dog park, the veterinarian, the dog groomer or doggie daycare can expose your precious fur baby to canine influenza. Flu in dogs is potentially dangerous and very contagious. It does not currently pose a risk for people."
Like flu in humans, canine influenza is spread through aerosols and respiratory droplets.
"Dog flu is easily prevented by vaccinating your dog with two doses of the canine flu vaccine," Woolf explained. "Ask your veterinarian about the vaccine. The first shot provides partial immunity. The second shot given about two weeks later is a booster which gives stronger protection."
There are two types of canine influenza vaccines. Ask your veterinarian which she recommends.

Zoetis – Vanguard CIV H3N2/H3N8 – 2 vaccinations, 3 weeks apart. Considered fully vaccinated 7 days after the second shot.
Merck – Nobivac CIV H3N2/H3N8 – 2 vaccinations, 2 weeks apart. Considered fully vaccinated 14 days after the second shot.
For people relocating overseas with their dogs, New Zealand, Australia and other countries now require dog flu vaccination, according to Woolf. These countries usually accept a recent booster shot if the documents show full previous immunization and the booster administration date.
Dogs that come down with the flu develop fevers and coughs that last one to three weeks. Dog parents may notice decreased appetite, lethargy and a greenish discharge from the nose and eyes. Some dogs develop higher fevers and pneumonia. Severe dog flu cases cause death.
For people traveling or taking their dogs anywhere outside the home--especially to an overseas destination—canine flue vaccination is an ounce of prevention that really is better than a pound of cure.
Learn more about country requirements for importing pets at airanimal.com.
About Air Animal
Air Animal has helped more than 55,000 families move their 135,000 furry, feathered and scaly pets around the globe since 1977. They welcome pet move authorizations and referrals from major corporations, relocation management agencies, household goods movers, veterinarians, families, U.S. military and government transferees. Get the best in animal care and transportation. Air Animal is an appointed and endorsed IATA air cargo sales agency working with all airlines that move animals. They are an Indirect Air Carrier cleared for tendering live animals to airlines by the U.S. Transportation Security Administration. See airanimal.com to learn more about Pet Moving Made Easy®.