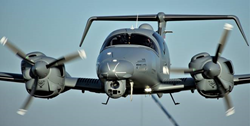 Efficient, quiet, capable ISR platform from Air Bear Tactical Aircraft.
SANTA ANA, Calif. (PRWEB) February 04, 2021
Air Bear has established itself as one of the preeminent prime contractors offering custom ISR and special mission aircraft since 2014. John Nielsen, Air Bear's Director of Law Enforcement Operations states: "The DA62 MPP is a great addition to our suite of mission ready aircraft platforms. It fills a niche between low performance piston aircraft and high-cost turbine platforms, with capabilities uniquely suited for the ALE community." Nielsen continues: "The DA62 MPP combines speed, range and payload to address the needs of ALE along with being custom designed to support the mission. Add its attractive acquisition price along with its extremely low JET-A fuel consumption and the community now has an outstanding performer at affordable prices."
Successfully supplying ISR and special mission aircraft since 2014, Air Bear counts among its clients the California Highway Patrol, Florida Highway Patrol, Orange County (CA) Sheriff, SB County Sheriff, and Riverside PD amongst its many customers. Gary Bushouse, Director of Business Development at Air Bear states, "Air Bear has strived to provide the best capable, cost effective, mission ready solutions to ALE and the DA62 MPP, certified for US operations, provides an unrivaled mix of affordability and mission capability."
Mario Spiegel, Sales Manager Diamond Special Mission Aircraft at Diamond Aircraft Industries GmbH states "We are excited that we finally have found a distributor that is that well connected within the US ALE market, as Air Bear. The DA62 MPP offers everything you would expect of a state-of-the-art surveillance aircraft, such as most modern avionics, efficient and quiet Jet fuel engines, superior and easy handling and a roomy cabin ".
To learn more about the capabilities of the DA62 MPP in surveillance operations, please visit http://www.airbear.aero; contact Air Bear at bearsintheair@airbear.aero,http://www.airbear.aero, or at 855-699-5489.