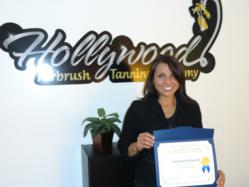 My goal is for everyone to have a successful airbrush tanning business and then consider becoming a trainer for the academy in the near future
Los Angeles, CA (PRWEB) July 12, 2013
Hollywood Airbrush Tanning Academy is now slowly but surely making its way into the Canadian beauty and wellness community. Amanda Brathwaite from Ottawa, Canada has completed her hands-on spray tanning training program in the academy and started her own independent spray tanning business SOL MIST. It may be recalled that the Hollywood Airbrush Tanning Academy has already trained several aspiring airbrush tanning technicians from Hawaii and Trinidad and many more from other cities and states in the USA. Amanda's new business will serve a wide area around the Ottawa, Ontario region, covering Nepean, Kanata, Stittsville, Richmond, Manotick, Barrhaven, Bell's Corners, Kemptville, Merickville, Carleton Place, Carp, Smith Falls, Almonte, Perth, Arnprior and Renfrew.
Amanda is a busy mom with two healthy children who worked previously in the promotion department at a radio station. She also operated her own small business as a therapist for children and adults with special needs. Amanda has also made her mark as a talented artist working with mixed media, alcohol inks and stain glass. Talking about her new business, Amanda says, "SOL MIST" offers custom airbrush tanning, specializing in body contouring and camouflage". Amanda is excited to help people with such conditions as vitiligo, port wine, rosacea, spider veins, stretch marks and those wanting to tan SAFE and who don't want to expose their skin to the sun's damaging rays. She also added that she is proud to be the "Canadian Connection" for the Hollywood Airbrush Tanning Academy.
Sol Mist can be reached by calling 613-608-8300 or by visiting http://www.solmist.ca
Hollywood Airbrush Tanning Academy is the premium academic resource for aspiring airbrush tanning professionals in America. This spray tanning academy has guided many of its students to open and operate their independent airbrush tanning business. Hollywood Airbrush Tanning Academy's reputation can be attributed to a great extent to its renowned owner and founder Simone Emmons. Discussing her own experience at the Hollywood Airbrush Tanning Academy, Amanda said, "I learned some excellent marketing skills and benefits from Simone's wealth of experience. Simone Emmons taught me her exceptional spray tanning technique. One of its kind! A flawless tan every time with this technique!"
Airbrush tanning is now the most preferred choice for the health conscious tanning enthusiasts. This is why there has been a rising demand for spray tanning technicians all over the world in the recent years. Hollywood Airbrush Tanning Academy not only teaches the techniques of sunless tanning, but also provides ongoing promotional support to their students in the future. When asked to comment about her goal for the future, Simone said, "My goal is for everyone to have a successful airbrush tanning business and then consider becoming a trainer for the academy in the near future. We are looking to develop trainers in all cities, states and countries. "
About the Hollywood Airbrush Tanning Academy:
Hollywood Airbrush Tanning Academy is located in Los Angeles, California and offers an extensive Airbrush Tanning Certification program to anyone who wishes to learn the art and business of spray tanning. Simone Emmons, the creator of the spray tanning training program has been a professional, licensed spray tanning technician and teacher and has helped numerous entrepreneurs from Utah, Colorado, Nevada, Minnesota, Arizona, Alabama, South Carolina, North Carolina, Illinois, Indiana, Washington, Oregon, Florida, Oklahoma, Alaska, California, Canada and the Island of Hawaii and Trinidad start a business in Airbrush Tanning. The spray tanning program is unique because it provides hands-on and private spray tanning training to individuals who want to start an Airbrush Tanning Business. According to Emmons, this spray tanning program gives individuals a leading edge in starting an Airbrush Tanning business immediately after finishing with the training. Students have the option to choose from a full day course of 10-12 hours or two half day courses of 5-6 hours a day or through live video conferencing. The academy is also launching a website soon so students can learn Airbrush Tanning Online. Many tanning training institutions only educate students on their own equipment and products they sell, however Hollywood Airbrush Tanning Academy does not sell any of their own products and provides training and education on all equipment and good products in the airbrush tanning industry. Recently, the academy added an additional trainer to hold airbrush tanning classes on the East Coast. Weekly classes are now also available in Charlotte, North Carolina and Lewisburg, West Virginia.
Individuals interested in learning and starting a career in airbrush tanning should visit the website at HollywoodAirbrushTanningAcademy.com or for more detailed information about the airbrush tanning classes, visit 1DaySprayTanTraining.com.