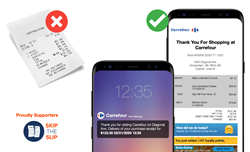 "Retailers must realize that using printed receipts generates huge waste and environmental impact. Health risks are also latent as paper receipts are coated with Bisphenol A and B, linked to reproductive impairment, type 2 diabetes, thyroid conditions, and many others." Says Airpop's Jesus Cisneros
SILICON VALLEY, Calif. (PRWEB) March 07, 2020
Mobile tech company Airpop, INC., has announced today that new sender verification processes have been fully integrated into their platform.
Airpop delivers millions of digital purchase receipts on a daily basis (hence the name Air Proof of Purchase), to consumers around the world through its mobile messaging and free-to-user data platform. Airpop services over 9 billion consumers worldwide through multichannel delivery such as vSMS, RCS, WhatsApp and Telegram, therefore increasing the digital engagement which in the past could only be done using paper.
Jesus Cisneros, Airpop's President of Communications explains it like this: "It's important to be aware that delivering mobile receipts to consumers is a very important part of the communications process that enriches the purchase experience. This not only offers what you typically would get from a traditional receipt, but it now allows instant and relevant consumer engagement within the digital receipt, without apps or any other technology besides what the consumer's devices already have.
"Another important aspect is that consumers need the security of knowing the origin of these communications. Our platform develops stronger and better interactions as time passes and the consumer will now have the security of knowing the identity of the sender of the message, therefore trust that the contents are fully reliable.
"We solidify trust that transforms into a better consumer-enterprise bond, while at the same time support the -Skip the Slip- initiative. Our engineering team has created an incredibly easy to integrate API so all kind of businesses have no excuse to implement digitalization.
"This is extremely important in regions like North & Latin America, where mobile users are constantly receiving spam or non-authorized messages from doubtful entities."
Airpop's platform has partnered with over 130 global brands in retail, banking, gas stations and venues, and has proven to be the preferred purchase receipt method for consumers. According to their data, 89% of transaction slips that on-boarded companies and partners issue, are now delivered via mobile.
Founded by mobile messaging industry veterans Jesus & Angel Cisneros, Airpop transforms traditional printed receipts into rich content communications that enhance consumer experiences. Airpop is integrated into the business' POS (Point of Sale) software, generating smart consumer & behavior analytics.