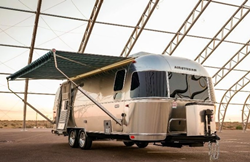 SCOTTSDALE, Ariz. (PRWEB) December 30, 2020
The Airstream International travel trailer has been a strong fixture in the Airstream lineup since its first model in 1958. Offering more sleeping capacity than smaller models, it has been redesigned over the years to fit modern audiences. At Airstream of Scottsdale, the dealership offers three 2021 Airstream International models in their inventory.
The smallest Airstream International model available in the Airstream of Scottsdale inventory is the 2021 Airstream International 25FB. At 25 feet long, it also rates as the smallest floor plan available for the model. The trailer provides a private bedroom in the front of the trailer and has a panoramic window in the rear. It is currently priced at $109,325.
As for a larger model, the dealership also has a 2021 Airstream International 27FB at its location. At 27 feet long, the model is the third-largest length available. With the panoramic window in the rear, a full-size bed and private bedroom space are located in the front of the trailer. The interior offers the Coastal Cove décor package. As a whole, the model is available for $115,850.
The largest Airstream International model available at Airstream of Scottsdale is a 2021 Airstream International 28RB. At 28 feet long, the trailer has its private bedroom space and queen size bed located in the rear. Because of the room placement, the model offers a rear panoramic window in the front of the trailer. Inside, the model has an Aqua interior color scheme with Coastal Cove wood accents. Similar to the 27-foot option, the model is priced at $115,850.
Customers looking to purchase a 2021 Airstream International can contact Airstream of Scottsdale directly for more details on each model available. An associate can be contacted over the phone at 480 467-3737 or at the dealership's location at 15000 N Hayden Road in Scottsdale. Plus, additional details can be found on each vehicle page on the dealership website at https://www.airstreamofscottsdale.com/.