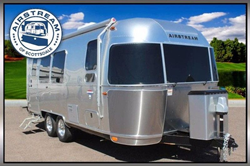 SCOTTSDALE, Ariz. (PRWEB) May 21, 2020
As a business that focuses on selling travel trailers, Airstream of Scottsdale currently has special offers on select 2019 Airstream models for interested customers. There are three discounted models that can save qualified buyers thousands of dollars upon purchase. These special offers are available on three different model travel trailers. Each model has been treated with Cilajet Anti-Microbial Fog, which is an agent used to sanitize areas against microbes.
The first model available is a 2019 Airstream International Serenity travel trailer. It measures 23 feet long and has a bed located in the front of the interior. The interior is designed with espresso-colored upholstery and Asian sand-colored cabinetry. Originally priced at $86,400, the dealer discount provides $16,403 off the price, bringing the current total to $69,997.
The second travel trailer with a special offer is a 2019 Airstream International Signature. The model has an interior with oyster-colored upholstery and cabinetry in an ebony shade. Its bedroom area is located in the front of the travel trailer and is equipped with a queen-size bed. The model was originally priced at $89,979. After the special dealer discount of $12,881, it is currently priced at $76,997.
The final travel trailer available is a pre-owned 2019 Airstream Flying Cloud. The model is 25 feet long and has a bed located in the rear of the interior. It has a tan interior with the classic bright aluminum exterior. Those interested in the model are encouraged to call the dealership for the exact price of the pre-owned travel trailer.
Customers interested in learning more about each 2019 model available at a special offer price can contact Airstream of Scottsdale directly. They can be found at their location at 15000 N Hayden Road in Scottsdale, Arizona. Airstream of Scottsdale can also be contacted by phone at 480-467-3737 or online at https://www.airstreamofscottsdale.com/.