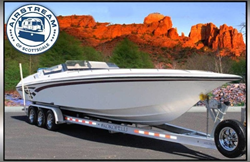 SCOTTSDALE, Ariz. (PRWEB) September 26, 2020
Known for its unique inventory, Airstream of Scottsdale currently has various new and used boats at their location. Those looking for a high-performance boat can find a selection of three models at the dealership. The available models include a new 2019 Monterey Bowrider 224S, a used 2006 Avanti SP27 and a used 1998 Fountain Fever 32.
Currently the only new boat in the dealership's inventory, a blue 2019 Monterey Bowrider 224S is available. The boat is propelled by a Mercury 4.5-liter 1.62 Alpha motor that provides up to 250 horsepower. Although its base price is $64,790, Airstream of Scottsdale provides a $4,791 dealer discount for a final listed price of $59,999.
Another boat available at Airstream of Scottsdale is a used 2006 Avanti SP27. Classified as a high-performance boat, the model is 27 feet long and provides a cuddy cabin for additional seating and space. The model is powered by a MerCruiser® 496 MAG HO engine and is in good condition. Initially listed at $39,900, customers interested can purchase the boat for $30,997 after a dealer discount.
The final boat currently in the Airstream of Scottsdale inventory is a used white 1998 Fountain Fever 32. The high-performance boat is 32 feet long and has twin MAG MPI 502 motors. The model also has a cuddy cabin with various amenities below. The boat sits on a custom trailer built in 2018. Originally costing $48,000, the model has a dealer discount for $8,005 for a current price of $39,995.
Those looking to purchase a unique boat in the Scottsdale area are welcomed to contact Airstream of Scottsdale. An associate can be contacted at 480-467-3737 or reached online at https://www.airstreamofscottsdale.com/ for any inquiries. The dealership itself is located at 15000 N Hayden Road in Scottsdale.