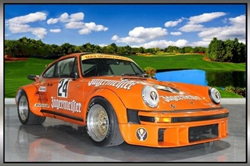 SCOTTSDALE, Ariz. (PRWEB) October 24, 2020
As one of the most well-known luxury vehicle brands, Porsche models have much to offer. At Airstream of Scottsdale, the dealership has three available pre-owned models for purchase. This includes a white 2017 Porsche 911 Turbo Cabriolet, a 1981 Porsche 930 Turbo Coupe and a 1986 Porsche 911 Carelli Convertible.
The most recent Porsche model available at Airstream of Scottsdale is a 2017 Porsche 911 Turbo Cabriolet. White in color, the convertible has just 1,541 miles driven. It features a 3.8-liter Flat six-cylinder engine, which receives up to 540 horsepower and 286 ft-lbs of torque. Also, the model has all-wheel drive and provides up to an estimated 24 miles per gallon on the highway. Originally priced at $183,798, the model has a dealer discount of $13,803 to bring the final price to $169,995.
Customers interested in a unique model also can find an orange 1986 Porsche 930 Turbo Coupe available at the dealership. The model is a re-creation of the original #24 934 RSR Turbo model that ran at Le Mans in the European GT Championship in 1976. It has 120,076 original miles on it but was professionally rebuilt in 2013 at 83,000 miles. The model is currently available for $135,900.
Lastly, a red 1981 Porsche 911 C928 Carelli Convertible is available at the dealership. The vehicle is just one of eight unique prototypes ever produced. It has been driven for just 6,341 miles. Under the hood, the model has a 4.5-liter eight-cylinder engine that offers 235 horsepower. The dealership has maintained the vehicle in a garage under a soft cover to retain its extra clean condition. With a dealer discount of $24,905, the price is just $59,995.
Customers interested in purchasing any of the Porsche models at Airstream of Scottsdale are invited to contact the dealership directly. An associate can be reached via phone at 480-467-3737, online at https://www.airstreamofscottsdale.com/. Customers can also view these vehicles in-person at the dealership, which is located at 15000 N Hayden Road in Scottsdale, AR.