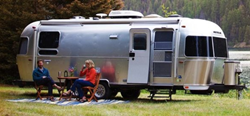 SCOTTSDALE, Ariz. (PRWEB) August 19, 2019
Airstream of Scottsdale features a large inventory full of various travel trailers for customers to explore. One of the most popular models available at the dealership is the 2020 Airstream International Serenity travel trailer. This travel trailer features six different trailer lengths and a total of twelve floor plan options.
The six primary floor plan options of the 2020 Airstream International Serenity are 23CB, 23FB, 25RB, 25FB, 27FB, 28RB, and 30RB. Each floor plan features an available Twin floor plan option like the 30RB Twin floor plan. The 23CB and 23FB floor plans are the only exceptions to this. Each portion of the floor plan title for Airstream travel trailers provides information to the customer. For example, with the 30RB Twin floor plan, the "30" indicates the trailer is 30 feet long, the "RB" indicates the bedroom is located in the rear of the trailer, and "Twin" indicates the bedroom features two twin beds rather than a single queen bed.
The 2020 Airstream International Serenity travel trailer can sleep between four and six adults depending on the floor plan. Additionally, this travel trailer ranges in starting price between $88,900 and $112,400. The trailer capacities for the 2020 Airstream Serenity vary from floor plan to floor plan and fall between 6,000 and 8,800 pounds.
Anyone can explore the Airstream of Scottsdale inventory by visiting the dealership's website at http://www.airstreamofscottsdale.com. Airstream of Scottsdale is located at 15000 N. Hayden Rd in Scottsdale. Customers can schedule an appointment to take a closer look at the 2019 Airstream Nest travel trailer today by calling 480-467-3737.