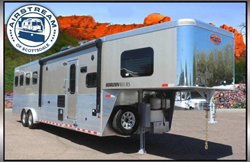 SCOTTSDALE, Ariz. (PRWEB) June 16, 2020
In recent weeks, Airstream of Scottsdale added several new special offers on select items in their inventory. Of the group, four trailers at various sizes have been given a dealer discount ranging from $3,800 to $35,000 off their initial price. These trailers include a 2019 Haulmark Cargo Trailer, a 2019 Sundown Stockman Express Livestock Trailer and two 2019 Sundowner Horse Trailers.
For cargo and livestock, Airstream of Scottsdale has two trailers available at a special price. The first model is a 2019 Haulmark PP714T2 Cargo Trailer, listed at just $5,995 after a $4,000 dealer discount. Classified as an "entry-level" trailer, the model has the standard V-nose with an overall length of 17'8" and height of 8'3". The dealership also has a gray livestock trailer available for purchase. The 2019 Sundowner Stockman Express 16BP Livestock Trailer is listed at $10,997 after a $3,820 dealer discount. It has a silver interior and is sized at 6'9" wide, 6'6" tall in its interior. It has interlocking extruded aluminum floors and a silver exterior with a rear gate and side door.
Two Sundowner horse trailers are also available at a discounted rate from Airstream of Scottsdale. The first model is a 2019 Sundowner Santa Fe 6906 3-Horse Gooseneck Trailer. Starting at a price of $46,994, the dealership has taken off $7,997 to provide a special price tag of $38,997. It has an aluminum exterior with a spare tire, wheel and an automatic jack among other features. A 2019 Sundowner Horizon 8011RS 4-Horse Gooseneck trailer is also available. Originally priced at $95,436, the dealer is taking $35,439 off the price for a special $59,997 current cost. The model has room for four horses and offers living quarters on the front portion of the trailer.
Customers interested in any of the four available trailers are invited to contact Airstream of Scottsdale directly for additional details. You can visit them online at https://www.airstreamofscottsdale.com/ or call them at 480-467-3737. Those interested may also head to its location in Scottsdale, found at 15000 N Hayden Road.