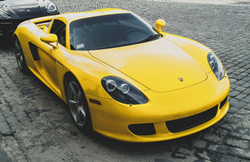 SCOTTSDALE, Ariz. (PRWEB) April 30, 2021
As a travel trailer dealership, Airstream of Scottsdale often buys sports cars from customers looking to trade their value in toward an Airstream. As a result, a number of Porsche vehicles have been traded in and are now available among the dealership's stock of used vehicles. At the time of this writing, four Porsche vehicles are for sale at Airstream of Scottsdale.
The oldest model year of Porsche available is a 1981 Porsche 928. This vehicle is painted red and has only accumulated 6,341 miles in its 40 years of existence. The engine in this Porsche is a 4.5 liter 8-Cylinder. No price is listed by the dealership at this time.
A 1986 Porsche 911 is also available, but this model has been driven over 120,000 miles. It is painted orange, has vinyl decals and a 3.3-liter flat 6-cylinder engine and rear-wheel drive. The price for this model is set at $135,900.
A 2017 Porsche 911 Turbo is also on the lot at Airstream of Scottsdale. With a price of $169,995, this model has all-wheel drive and a 3.8-liter flat 6-cylinder engine. The vehicle has been driven 1,541 miles and has a white exterior paint color.
Another Porsche 911 on the used car lot is a 2019 Porsche 911 GT3 RS. This model is for sale with a price set to $220,000. Mileage for this model is only 1,384 miles and no powertrain details are listed with it at this point in time.
Shoppers interested in purchasing or learning any more about any of these Porsche models can do so by calling the dealership at (480) 467-3737, by using the live chat function on the website or by visiting the location at 15000 N Hayden Road, Scottsdale, Arizona 85260.