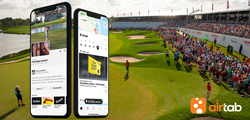 Airtab's new social engagement technology takes the Honda Classic to the next level.
JUPITER, Fla. (PRWEB) February 21, 2019
Airtab®, a Jupiter, Florida-based technology start-up recognized for its social engagement platform featuring proprietary Here-Now-Live™ check-ins, today announced its proud partnership with the Honda Classic and Republic National Distributing Company (RNDC) for the release of a major update that will launch during the PGA Tour's premier event happening February 25th to March 3rd in Palm Beach Gardens, FL.
Airtab brings a new look and engaging user experience to the platform which uses cutting edge software and data analytics to connect people to locally curated live events, dining promotions and top-shelf drinks using revolutionary Here-Now-Live™ technology. Dennis Cunningham, Founder and CEO of Airtab explained, "We have eliminated all the pain points that people experience using the vast array of social and entertainment apps, streamlining the user's needs and wants into this one application."
Honda Classic attendees using Airtab will receive insider benefits such as exclusive drink experiences, visibility to see where their friends are in real time, plus complimentary tastings from partner brands including Four Roses Bourbon, Yellowstone Bourbon and Minor Case Rye. "As an added bonus," Cunningham continued, "the Airtab experience actually extends well beyond the PGA Tour event, with dozens of restaurants and several venue partners activated in Palm Beach County."
The Honda Classic features the world's best PGA Tour players and is expected to draw more than 225,000 people. "This is one of the biggest outdoor events of the year," noted Sean Denyse, Director of Corporate Partnerships for the Honda Classic. "With these like-minded brands coming together, a really amazing experience is being created and further enhanced. Airtab's new social engagement technology takes the Honda Classic to the next level."
A highlight of the Honda Classic is The Barrel District powered by Airtab. With free entry for attendees, the interactive experience takes place on hole 16 and features high-end bourbon brands in RNDC's portfolio. Airtab users will have exclusive entry to win a bottle of two coveted bourbon brands. "We are really pushing the envelope this year, making this an entertaining, educational, and socially engaging activity for the people," said Steve Milechman, Area Director at RNDC. "Airtab creates an impactful brand activation that helps people track their brand preferences in a fun and experiential environment."
With everything from live music and comedy, performing arts to culinary happenings, Airtab is poised to become the go-to source for discovering what to do at popular locations and venues. With Here-Now-Live™ technology, Airtab gives visibility into what's happening now, showing trending locations via live check-ins and user activity.
About Airtab®
Airtab® is a diversified media technology company and leading mobile social networking platform with users nationwide, fueled by the company's proprietary Here-Now-Live™ technology. Airtab® uses cutting edge promotional and data analytics reporting driving real customers to trending bars restaurants and hotels for complimentary beverages while connecting people. Airtab's powerhouse Board of Directors includes a roster of influencers including Herb Baum former CEO of Dial Corporation and President of Campbell's Soup Company, Bernie Carballo, COO of Seagate Technology, Grant Haas of Haas Portman Family Office and Robert Samuels, Co Founder of Provident Jewelry. For more information visit airtabapp.com
About the Honda Classic
The Honda Classic brings the top talent of the PGA TOUR to Palm Beach County providing a week of entertainment for the entire community with a greater goal of supporting South Florida charities through the Children's Healthcare Charity, Inc. Masked by the excitement and energy surrounding the best players in the game battling the Bear Trap and thousands of spectators enjoying the action and entertainment is our true mission - giving back to the children of our community. A total of $4.55 million was donated to charity from the 2018 tournament, and over $35 million since its inception. While we strive to provide Palm Beach County with a premier professional sporting event, our ultimate goal is to positively impact youth in need.
Grounds tickets, Bear Trap tickets and other hospitality tickets and packages for the 2019 Honda Classic are on sale at thehondaclassic.com or by calling 1-844-8Honda8 (844-846-6328). You can also reach out to Sean Denyse directly via email or phone, below.
About RNDC
With roots extending before Prohibition, RNDC is one of the nation's leading wholesale beverage alcohol distributors. We serve as a brand-building and product expert liaison between suppliers and those who sell or serve alcoholic beverages. Customer service, product expertise and executional excellence are the hallmarks of our enduring success. By closely monitoring evolving market trends, we understand the unique needs of our customers and consumers. Our knowledge in the process and craft of alcoholic beverage production fuels our passion for the art of selling lifestyle products.
https://www.rndc-usa.com
FOR MORE INFORMATION:
Dennis Cunningham,
Founder & CEO
dennis@Airtabapp.com
http://www.airtabapp.com
Steve Milechman
Area manager, On Premise Wine and Spirits, WSET
Steve.milechman@RNDC-USA.com
Sean Denyse
Director, Corporate Partnerships
sdenyse@thehondaclassic.com
Cell: 561-348-4424