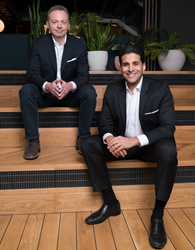 "Oliver's appointment is a strategic move by Airtower's leadership to hyper-scale the business. Oliver and I are in lock-step to ensure our growth and investment forecast exceed our expectations." - Manny Dureja, Founder and President of Airtower Networks.
WASHINGTON (PRWEB) January 14, 2020
Airtower Networks, recently named One of America's Fastest Growing Companies (Inc. 500) and the listing's highest ranked wireless communications infrastructure provider, has announced that Oliver Valente is joining their leadership team as Chief Executive Officer. This move is aligned with leadership's vision to further invest in their expanding in-building wireless portfolio. Mr. Valente is a veteran of the wireless industry with over 25 years of executive leadership experience at companies including Centel Cellular, Sprint where he served as CTO and SVP of Product Development, and most recently at ExteNet Systems where he served as EVP & COO. He will be strategically and tactically focused on hyper-scaling the business during the demands of the company's capital growth stage. He has been a leader throughout his career with a background in wireless & wireline network design, engineering & construction of thousands of cell tower sites, thousands of miles of fiber, data center deployments, & tens of thousands of indoor & outdoor small cells.
"Oliver's appointment is a strategic move by Airtower's leadership to hyper-scale the business. Oliver and I are in lock-step to ensure our growth and investment forecast exceed our expectations," said Manny Dureja, Founder and President of Airtower Networks. "Oliver has a proven track record of participating in companies at an executive level from start up through $1B+ valuations and will be an integral part of the company's growth initiatives. The leadership team has timed his appointment perfectly with both Airtower's growth initiatives and the greater market's shift towards enabling in-building wireless connectivity in the millions of buildings still needing this capability to improve coverage and capacity. Airtower's vision is to enable the millions of wireless connections needed now and in the future by Building Owners, Property Managers, Enterprises, and Mobile Network Operators for smart building applications and their end users."
Contrary to many competitors in the marketplace, who have focused first on mobile network operators, Airtower's direct-to-owner-first strategic sales program, prioritizes the private ownership of in-building wireless assets ahead of the wireless carrier's participation in a project. This not only simplifies the initial engagement and removes pricing barriers, but often accelerates the deployment and onboarding of carrier participation. This model has yielded an impressive project portfolio, one that includes several hundred buildings and properties totaling tens of millions of square feet. Their growth hypothesis includes leveraging their success to date to ensure mobile network operators meet their 5G coverage & capacity needs in these same venues, while at the same time, offloading the wireless carrier's outdoor networks, foreshadowing a significant cost reduction as the infrastructure is in place ahead of the demand.
Airtower's leadership expansion comes just weeks after the company orchestrated a corporate name change from Wave Wireless to Airtower Networks.
"By adopting this vision from its inception, Airtower Networks has successfully and exclusively deployed in-building wireless connectivity to tens of millions of square feet for building owners, property managers, and enterprises in densely populated metro areas," said Valente. "In the future Airtower will add to these customers by assisting Mobile Network Operators meet their 5G coverage and capacity needs in these same venues for a fraction of the cost they've experienced in the past. We are well positioned to grow our in-building wireless business and expand with mobile network operators as 5G emerges. It's an honor and privilege to be joining the company at such an exciting time and teaming up with Manny and the great group of people at Airtower Networks."
Airtower's leadership team will be attending the CBRS Alliance 2020 Members Meeting this week in Tempe, Arizona.
About Airtower Networks:
Airtower Networks is One of the Fastest Growing Companies in America (Inc. 500) and named in the 10 Hottest Companies of Washington D.C. Airtower Networks has become the trusted partner for building owners and enterprise customers in need of future-proof managed wireless services that help improve their bottom line. Airtower Networks total managed services for smart buildings and mobile connectivity maximize building owners' investment by providing communications infrastructure and 5G-ready networks.
Airtower Networks designs, builds, owns, and operates next-generation private LTE, Wi-Fi, public safety and cellular networks. With clients including data centers, industrial, residential, healthcare, retail, education, hospitality, stadiums, public venues as well as customers ranging from Fortune 50 enterprises, the largest commercial real estate developers in the nation to the most technology advanced government organizations. Airtower Networks consistently provides cutting-edge solutions to meet each customer's wireless needs.
For additional information, please visit http://www.airtower.com, hello@airtower.com or call Dennissa Salazar at 1-877-327-1785 x1240.