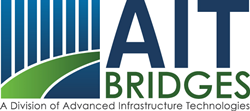 BREWER, Maine (PRWEB) May 26, 2021
AIT Bridges, a division of Advanced Infrastructure Technologies (AIT), a designer and supplier of composite bridge systems and structural components, today announced that the official opening and a ribbon cutting ceremony was held last week to mark the replacement and opening of the Grist Mill Bridge on Routes 1A and 9 in Hampden, Maine. The bridge is the first in the nation to use AIT's corrosion-resistant composite GBeam technology.
U.S. Senator Susan Collins of Maine, a Ranking Member of the Transportation Appropriations Subcommittee, Dr. Habib Dagher, executive director of the Advanced Structures and Composites Center (ASCC) at the University of Maine, Joan Ferrini-Mundy, president, University of Maine, Bruce Van Note, commissioner, MaineDOT; Brit Svoboda, executive chairman and Ken Sweeney, president and chief engineer, AIT Bridges among others came together last Friday at a ceremony held at the bridge to mark the occasion.
The new 75 foot Grist Mill Bridge, which opened to traffic in January 2021, replaces a span originally constructed in 1950 and crosses the Souadabscook Stream, an environmentally sensitive tributary of the Penobscot River. The single span bridge was built with five composite beams manufactured at AIT Bridge's Brewer, Maine facility, composite technology that was developed in cooperation with UMaine's ASCC. This bridge replacement is part of a project that includes reconstruction and paving work on an almost two-mile-long stretch of Route 1A. The total cost for the project is approximately $8.9 million.
AIT Bridges' composite bridge systems are designed to last over 100 years, at least 30 years longer than the average steel bridge. Additionally, because its bridge systems use composites instead of steel, they need little to zero maintenance over its lifecycle. The use of sustainable, environmentally friendly (low carbon footprint) materials results in a low impact solution to the aging bridges in the U.S.
"The Grist Mill Bridge has proven to be one more example of how composite technology is absolutely here to stay in the bridge building industry. The cost to use composite materials is competitive compared with steel and concrete, composites are environmentally friendly and require little to no maintenance over their 100 year lifespan," said Ken Sweeney, president and chief engineer, AIT Bridges. "The Grist Mill Bridge is truly Maine's bridge. It was built with technology created here in the state, and by the businesses and people of Maine who were part of its construction. We're so pleased to mark the occasion with all of the people who made the bridge possible."
AIT's innovative GBeam technology is attracting interest from departments of transportation across the U.S. AIT Bridges offers the composite arch bridge system and composite beams; two building blocks capable of replacing most bridges across the country. For more information about AIT Bridges, please visit: https://www.bridges.aitcomposites.com/
# # #
Advanced Infrastructure Technologies, Inc. (AIT) is a parent company that specializes in fiber-reinforced polymer (FRP) composites for the infrastructure industry. AIT leverages its knowledge of FRP composites across its operating divisions to create superior infrastructure. AIT also assists its operating divisions in marketing, sales, and communications.
AIT Bridges, a division of Advanced Infrastructure Technologies, is the leading provider of innovative composite bridge solutions, providing a unique tailored customer experience. It provides cost-effective and high-quality composite bridge solutions to meet today's complex design, durability, and environmental challenges. AIT Bridges' systems utilize components from the 'Bridge-in-a-Backpack' technology, developed over an 11+ year period by the Advanced Structures and Composites Center at the University of Maine. The goal was to develop a rapidly deployable bridge technology for the military.