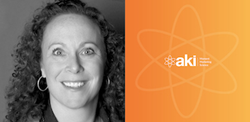 SAN FRANCISCO (PRWEB) February 12, 2020
Consumer Packaged Goods marketers have a powerful new advantage in moment marketing now that Aki Technologies, the company that helps brands personalize advertising through the power of mobile moments, has launched its first team dedicated solely to CPG.
Risa Crandall, former VP of Sales at Eyeview, will lead Aki's newly-formed Consumer Packaged Goods division as its VP of Strategy and Sales. She will grow the new team, utilize moment marketing to activate impactful ads for CPG brands, and increase consumer engagement for these marketers.
Prior to joining Aki, Crandall was VP of Sales at Eyeview where she grew revenue 30% during her tenure and led the CPG team there. She also held leadership positions at Meredith Corporation and Quotient Technology. Because of her background, she uniquely understands CPG challenges, publisher needs, driving conversion, and using data to drive sales lift. She was one of the founding five members of Crisp Mobile where she built the business and made it her hallmark to create true partnerships with clients. She brings to Aki her understanding of video, social, digital, and mobile as well as her extensive insights into CPG marketing.
Also joining this new team are Cristina Costa and Alexa Williams, both of whom were formerly with Eyeview and who will serve as Aki's Sales Directors for CPG. Costa has more than 11 years of CPG experience on the agency side, as well as client direct and adtech sales; before Eyeview, she was on the Diageo eCommerce team. Before Eyeview, Williams worked at Inmar and Brandshare US. All three sales executives will be based in New York City. The new team will put a special emphasis on using moments to message consumers and working with brands to measure sales lift.
"CPG marketers have a lot to gain from the insights and personalization of moment marketing—we've seen the results firsthand in Aki-powered campaigns for brand and shopper marketers alike," said Scott Swanson, Aki Technologies CEO and co-founder. "With the introduction of our new CPG division, combined with the recent acquisition of Eyeview's video personalization tech, we're excited to deepen our commitment to our CPG customers."
This announcement comes on the heels of Aki's recent acquisition of intellectual property from Eyeview, which includes multiple patents for generating personalized, dynamic and broadcast quality video, which Aki will integrate into its moment-marketing solution to help brands meet the demand for more personalized, relevant advertising. "Aki's technology and focus on mobile solutions drives real actions for brands. And the people at Aki have both knowledge and heart for the work we do," said Crandall. "I'm excited to leverage the most current moments technology with personalization and the opportunity to drive sales impact. I can't wait to build partnerships with brands based on the insights we have on consumer behavior."
About Aki Technologies
Aki Technologies' mission is to advance moment marketing technology, in partnership with brands and agencies, to deliver a better consumer experience and revolutionary business results. Through its unique moment marketing approach, Aki helps marketers deliver advertising that better aligns with consumer preferences and ad receptivity in a given moment. Leading brands use Aki's moment marketing science to inform strategy and drive meaningful impact on campaign metrics like awareness, engagement, foot traffic and sales. To learn more about the company visit http://www.a.ki.