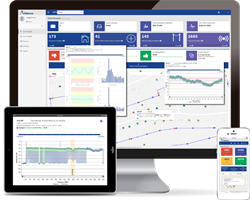 PARKER, Colo. and BOULDER, Colo. (PRWEB) October 15, 2020
Today's announcement between Akleza, creator of CableDiag™, a leading Proactive Network Maintenance (PNM) platform, and Applied Broadband, inventor of the JetPacket™ programmable network platform results in the first to market, integrated solution offering a comprehensive PNM and Profile Management Application (PMA) platform aimed at the management and optimization of advanced DOCSIS 3.1 network deployments, including out of the box support for both R-PHY and R-MACPHY distributed access architectures.
Akleza's CableDiag platform includes, CableDiagEQ a pre-equalization data analyzer that identifies cable plant faults, assigning severity and indicating location (in-home, drop/feeder/outside plant); CableDiagRF, an always-on and non-intrusive remote spectrum analyzer that automatically detects impairments (suckout, wave, ingress noise, etc.); CableDiag31 collecting and analyzing OFDM(A) data to reports on DOCSIS 3.1 service performance; and CableDiagUA, a software based upstream spectrum analyzer leveraging data from CMTSs and DAA Remote PHY Devices.
Applied Broadband's JetPacket Adaptive Modulation Processor (AMP) uses Sparsified Vector Quantization (SFQ) along with a patented microservices architecture to increase network capacity by up to 40% in existing DOCSIS OFDM and OFDMA channels. JetPacket technology is currently supporting a number of programmable network use cases and applications in technology trials across multiple Tier-1 cable operator networks.
"We are very excited to be partnering with Applied Broadband and integrating our best of breed solutions to help cable operators better monitor, manage, and optimize their DOCSIS 3.1 service offerings." said James Medlock, Founder & CEO of Akleza. "The addition of sophisticated profile management functionality leveraging the CableDiag platforms existing data will provide the next level in DOCSIS 3.1 management for our cable operator customer base."
"An adaptive modulation system for DOCSIS 3.1 has been out of reach for most operators due to the complexity of application development, data management, and deployment" said Jason Schnitzer, Founder & CTO of Applied Broadband, "by integrating our system with Akleza's PNM data collection and analysis technologies we remove critical barriers for operators to benefit immediately from Profile Management Application (PMA) capability. The Akleza CableDiag platform offers proven technology that can accelerate network optimization programs for our shared customers globally."
About Akleza, Inc.
Based in Colorado, Akleza is a leading provider of PNM solutions for cable operators worldwide. Our comprehensive set of diagnostic tools are cloud-based software only products that take advantage of the existing capabilities of a HFC network and does not require any additional hardware. Our mission is to help operators pro-actively monitor and improve their network quality thereby enhancing customer satisfaction. To learn more, visit akleza.com or connect with us on LinkedIn.
About Applied Broadband
Established in 2005, Applied Broadband is a R+D company inventing programmable network platforms for the world's largest cable operators. We operationalize our innovative models, architectures, and software to accelerate the deployment of new broadband systems and services while enhancing the connected experience for millions of people globally. For more information, visit http://www.appliedbroadband.com.