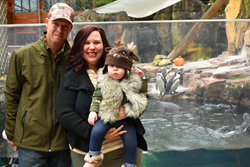 AKRON, Ohio (PRWEB) November 04, 2018
The Akron Zoo turned 65 years old this year, and to celebrate, the zoo is conducting a contest. Three individuals will be selected to appear in an Akron Zoo commercial that will air on television and on social media in spring 2019 for the "Why I Love the Akron Zoo" campaign.
The zoo is asking people to create a video explaining why they love the Akron Zoo in 65 seconds or less. Participants will need to upload their video online at YouTube or Vimeo, and then complete the online form on the zoo's website. Full contest rules, two sample videos and the online form can be found at akronzoo.org/akron-zoo-contest. Deadline for video submission is Friday, Nov. 16 at noon.
Eight finalists will be selected by a panel of judges. The top eight videos will be voted on by the public. Selection will be based on creativity and message.
The Akron Zoo is open 361 days a year. Winter hours are 11 a.m. – 4 p.m. and admission is $7 per person. Children under two are free and parking is $3. For more information visit http://www.akronzoo.org or call 330-375-2550.
Founded in 1953, the Akron Zoo is a non-profit, world conservation zoo with over 700 animals from around the world. Located just west of Downtown Akron, the zoo strives to connect your life to wildlife while inspiring lifelong learning and conservation action. The Akron Zoo is accredited by the Association of Zoos and Aquariums (AZA). With its more than 200 accredited members, AZA is a leader in global wildlife conservation, and your link to helping animals in their native habitats.