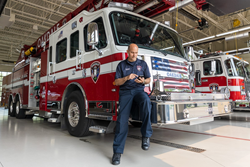 Once setup is completed, it doesn't require any action by the crew member. The only action going forward will be to map new staff members as they are added. -- Chief Andy Lovell, Gloucester Co. (NJ) EMS
RIVER FALLS, Wis. (PRWEB) August 13, 2019
Fire and EMS agencies who use Aladtec Scheduling and Workforce Management software and emsCharts management software can now save time and keystrokes with a new integration.
This integration enables emsCharts to receive schedule information from Aladtec frequently, ensuring that staffing data from yesterday, today, and tomorrow is in sync with emsCharts' crew information.
Gloucester County (NJ) Emergency Medical Service has used Aladtec for its scheduling since 2007 and uses emsCharts for its pre-hospital information management.
Gloucester EMS is one of the first Aladtec customers to implement the integration. The first county-based EMS in New Jersey, Gloucester EMS' 200-plus members made 26,197 responses from its 15 stations last year.
"The integration is not so much a time saver as it is a tool to prevent errors," wrote Andy Lovell, Gloucester EMS' Chief, and EMS Coordinator for County of Gloucester, Clayton NJ.
"As a crew member, if I don't remember to update my unit, station, and partner upon login and subsequently then create a chart within emsCharts, it will be created with my unit/station/partner from my prior shift.
"The integration automatically updates this for me, based upon the current schedule. This potential error elimination saves time in that the crew member, supervisor, or administrator does not need to correct chart errors as they do not occur," said Lovell.
Implementation wasn't difficult, he said.
"The integration so far has been seamless. Once setup is completed, it doesn't require any action by the crew member. The only action going forward will be to map new staff members as they are added."
Aladtec provides online scheduling and workforce management software for mission-critical agencies such as EMS, fire service, law enforcement, and dispatch. The smart platform puts real-time staff scheduling, time and attendance tools, in the palm of your hand. It tracks licensing and certifications, offers customizable forms and reporting, and allows leaders and members to communicate instantly, saving time and money.
Founded in 2003, River Falls, Wis.-based Aladtec serves more than 2,300 customers across the US and Canada. Annual subscriptions include all setup, training and unlimited support. To learn more, visit http://www.aladtec.com.
emsCharts was established in 2003 to serve the data management needs of the Emergency Medical Services industry. Its team of EMS professionals has used their extensive knowledge in both the emergency medical and technology fields to build quality data collection and EMS management solutions, for clinicians, by clinicians. The firm is headquartered in Warrendale, a northern suburb of Pittsburgh, PA.
emsCharts provides Electronic Patient Care Record (ePCR) software solutions in support of the air and ground EMS industry. emsCharts is optimized for patient care, quality assurance, and operational productivity. Developed by both medical and public safety professionals, emsCharts provides a fully integrated ePCR with an intuitive interface and HIPAA compliant infrastructure. Learn more at http://www.emscharts.com.