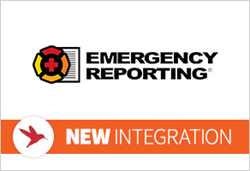 Aladtec continually reviews and acts on customer feedback to improve existing features and develop new ones that help our customers work faster and more efficiently. -- Dave Feyereisen, Aladtec President
RIVER FALLS, Wis. (PRWEB) June 17, 2019
Fire and EMS agencies who use Aladtec scheduling software and Emergency Reporting Records Management Software can now save time and keystrokes with a new integration.
Fire and EMS agencies of any size can utilize Aladtec's robust software to schedule complex rotations for multiple crews and multiple stations, then have the information seamlessly mesh with the Emergency Reporting cloud-based reporting and records management software.
This integration will save members time spent previously entering data by automatically transferring information between the two software systems.
Just weeks after implementing Aladtec's newly released integration with Emergency Reporting, a full-time fire service in eastern Louisiana estimates the functionality will save its 18 captains two- to five minutes on each report they complete.
St. Tammany Fire District #12 runs an average of 300 calls monthly, said Jason Bilich, St. Tammany's Chief of Communications. Applying simple arithmetic, that saving equates to 10- to 20 hours of command staff time each month.
"I'd say probably anywhere from two to five minutes depending on how many trucks are on the report," said Bilich. "If it's just a single-company response to a medical call, you're probably saving maybe a minute or two, but on a more complex call with multiple units, a structure fire where we have basically every unit in our district on the call, you're talking probably a savings of three- to five minutes per call. It's a decent saving."
Captains do the reports, district chiefs review them, and the Chief of Operations spot-checks after that, said Bilich, who is also the leader of Unifire -- Tammany's dispatch center, which dispatches eight area departments to some 12,000 emergencies annually.
St. Tammany's 18 captains and 30 firefighters staff three shifts at five stations. The department responds to about 2,600 calls annually -- about 80 percent medical-related. The area they cover is about 63 sq. miles -- home to about 25,000 people and 1,200 businesses.
The integration allows Aladtec's schedules to automatically feed into Emergency Reporting Daily Rosters, eliminating the mundane, error-prone tasks of duplicating roster data. Anytime schedules are changed, Aladtec seamlessly updates Emergency Reporting's daily roster.
Activating the integration and instructing staff was easy, said Bilich.
"Smooth as could be. I haven't heard of any complaints from any of our guys. The only thing is, it's important that whoever is doing the schedule for the department, they need to make sure that Aladtec is correct. That's about the only issue we've had, and that's on our end because somebody didn't update the schedule.
"That's nothing that any program has any control over. It doesn't know when somebody goes home sick. It's only as good as the information you give it. Put junk in? Get junk out. That was on us," said Bilich.
The Peoria (IL) Fire Dept. has used Aladtec for its scheduling since 2015.
Arson investigator and firefighter Brad Pierson drew the integration assignment because he and a colleague are tasked with reviewing records from each call. Peoria Fire answers 50 to 60 calls daily from 12 stations across the city of about 120,000 people.
"The scheduling integration has helped us a lot. It's used immensely -- obviously in the morning, setting up our schedule in Aladtec, and it goes all over to ERS -- instead of having to do it in two places, they only do it in one. And obviously, ERS -- we need to have our schedule in there because it fills in the bodies for our reports."
Pierson estimates the integration saves each battalion chief two hours a day over not having to duplicate keystrokes in two programs.
"If there are any (schedule) changes through the day, (we) just do it in Aladtec and it reflects over to ERS," said Pierson.
"The Emergency Reporting platform is developed for first responders in the fire and EMS service. Integrations with companion companies to help make our customer's lives easier. Aladtec is our newest addition to the partner community, and we are happy to be able to serve our mutual customers even better with this integration," said Dave Adams, Chief Revenue Officer and co-founder of Emergency Reporting.
Aladtec enables users to initiate swaps, trades, time-off requests, log overtime, fill open shifts quickly via text and email messaging, track licenses, certifications, and training all while reducing the number of manual entries and end paper shuffling with e-Forms. Aladtec's online scheduling and crew management system is available to administrators and staff, 24/7/365 from any computer or mobile device via the internet.
"This new integration we developed in cooperation with Emergency Reporting is another significant piece to enhance our robust scheduling software and workforce management tools that our users access from any smartphone, tablet, or desktop computer. Aladtec continually reviews and acts on customer feedback to improve existing features and develop new ones that help our customers work faster and more efficiently," said Aladtec president Dave Feyereisen.
About Aladtec
Aladtec is the premier employee scheduling and workforce management software suitable for both small volunteer services and large multi-station agencies. Aladtec provides an efficient and cost-effective solution to manage employee scheduling and crew member data for public safety and health care. Aladtec has over 2,200 customers whose 140,000-plus team members access the easy-to-use cloud-based platform regularly.
About Emergency Reporting
Emergency Reporting (ER) offers a cloud-based records management software (RMS) solution to Fire/EMS agencies worldwide. Founded in 2003, ER empowers first responders with secure, easy-to-use station management tools that offer one-report filing of NFIRS and NEMSIS data. ER's SaaS solution allows Fire/EMS departments to run their entire operations efficiently, enhancing both firefighter and citizen safety. The company's training and support teams, with 220-plus years of combined Fire and EMS experience, help ER maintain its reputation as the most friendly and easy-to-use RMS solution on the market. ER is proud to support more than 454,000 first responders and agency personnel at more than 6,140 agencies, continuously adding an average of 18 new agencies each week. Current customers include Fire/Rescue and EMS agencies and DoD/military installations, as well as large entities with self-contained Fire/EMS services such as NASA, nuclear power plants, hospitals, and oil refineries.