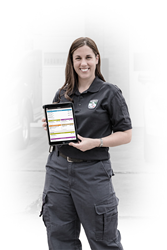 Prior to using Aladtec, I spent a lot of time dealing with trade requests from members. Now they take care of their own trades. We'll never go back to paper scheduling. -- Dale Dow, deputy chief, Fitch Rona Fire & EMS
NASHVILLE, Tenn. (PRWEB) October 24, 2018
Aladtec, a Wisconsin-based provider of cloud-based scheduling and workforce management software, will be among about 350 exhibitors showcasing products and services to EMS professionals attending the EMS World Expo, Oct. 29-Nov. 2 at the Music City Center.
As of early October, nearly 900 EMS agencies nationwide are using Aladtec to provide 24/7 staffing coverage, swiftly fill open shifts, and allow members to trade shifts and request time off. The program also includes a sophisticated form tool to speed up daily routines like rig- and medication checks.
Aladtec's cloud-based scheduling and workforce management software is used by more than 2,100 agencies across North America, including 21 fire-, rescue-, law enforcement and dispatch centers in the State of Tennessee.
"Prior to using Aladtec, I spent a lot of time dealing with trade requests from members. Now they take care of their own trades. It's also very easy to check the schedule from anywhere," said Dale Dow, deputy chief with Fitch Rona Fire & EMS, which serves the Dane County (WI) communities of Fitchburg and Verona. "We'll never go back to paper scheduling."
Product Manager Jaimie Hammond and Support Specialists Anthony Jackson and Dave Snyder will offer free demonstrations of the software and answer user questions about features, such as the new capability to attach and upload files within the Forms area.
Aladtec, a Passport sponsor for the EMS World conference, can be seen at Booth 820. Expo hours will be from 11 am to 4:30 pm, Wednesday, 11:30 am to 3:30 pm, Thursday, and 10 am to 1 pm, Friday.
Watch a short video about how Aladtec's Forms tool can streamline inspection routines.
EMS World offers EMTs, paramedics and leaders can participate in two days of continuing education sessions before the actual conference convenes on Wednesday, Oct. 31st.
The conference offers more than 200 educational sessions relating to ALS, BLS, critical care, educator, leadership, management operations, community paramedicine, and special populations.
The keynote event is a panel discussion entitled "Tackling the Opioid Problem" -- a national crisis that officials say killed 50,000 people last year.
Featured speaker, Dr. Dan Swayze, will describe some innovative and controversial approaches EMS agencies from across the country are taking to tackle the problem and why addressing this situation is much more complicated and divisive than other recent public health threats like H1N1 and Ebola.
Anne Montera, a registered nurse, will share her personal story of how she suffered a cardiac arrest, was resuscitated by her paramedic husband, Chris, only to awake in a hospital and learn she was being treated for an opioid overdose.
Attendees will have the chance to participate in a variety of hands-on training experiences including an active shooter mass casualty incident demonstration, agency ridealongs with the Nashville Fire Department, a workshop built around a simulated coordinated terrorist attack, and a clinical challenge -- the winner of which will earn a free trip to an international EMS conference.
During the exposition, Aladtec representatives will offer participants guided software system demonstrations. Interested agencies can also sign up for a no-cost 14-day customized demo by visiting http://www.aladtec.com
For information about their affordable industry specific options, or to try a free demo, please visit http://www.aladtec.com.