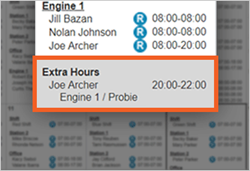 The good thing about it being web-based and being able to utilize it from our phones, (firefighters) can do everything when they get back to the station -- laying in bed if they need to. It's that easy for 'em. -- Capt. Derek Carson, Pinecroft Sedgefield Fire Dist., Greensboro, NC
RIVER FALLS, Wis. (PRWEB) January 30, 2019
Emergencies don't happen on a regular schedule, so the First Responders who answer the calls need flexible tools to manage their time.
A new feature activated recently in the Aladtec Scheduling and Workforce Management platform is designed to streamline overtime and on-call record-keeping for thousands of law enforcement, fire, and EMS personnel.
Termed "Extra Hours," the feature provides members with an easy way to record unplanned shifts, holdovers, shift variances, shift adjustments, and unscheduled overtime after the fact.
Once the shift has ended, a member enters the unscheduled time via smartphone, tablet or desktop computer, and the request is forwarded to a supervisor for approval. The additional hours are added to the schedule and can be documented as part of the regular reporting process.
Jaimie Hammond, Aladtec's Product Manager, said a provision to deal with Extra Time had been a popular feature request by dozens of Aladtec's 2,200-plus customers nationwide.
She and Aladtec's in-house engineering team have been working on the integration for about a year. The last large feature rollout -- a modification that allowed supervisors to filter approval requests by workgroups -- helped pave the way for some elements required in the Extra Hours feature.
"I heard it repeatedly at the Police Security Expo in Atlantic City last June when talking with clients and prospects about their needs, " said Hammond. "This was such a great idea, we knew from the start we needed to implement this feature to help make the lives of first responders a little easier."
"To add this feature as a truly integrated solution, instead of an add-on with isolated functionality, we had to reexamine and enhance the existing notifications and permissions that run throughout our app. For an application over 16 years old, with thousands of different configuration options, this was an enormous task.
"We had to make the notifications and permissions better, clearer, and more flexible without disrupting the 100,000-plus users that rely on our application every day.
"Extra Hours touches almost every rule and every page in our application, so each change had to be made cautiously and run through thousands of unit tests to ensure existing functionality kept working the way it should, and that the new feature worked as it should."
Niki Holoday, Finance Director and an administrator with the 65-member Truckee Fire Protection District at Lake Tahoe, CA, turned on the feature soon after Aladtec rolled it out.
"Prior to the Extra Hours feature, we'd developed a form. The employee would fill it out, it would then be approved by their supervisor, and then it would come to our admin team and those hours would have to be added to the schedule. So we have eliminated that entire process," she said.
"The other issue that was solved with extra hours was the time type errors that had been made. When our admin team would enter the hours onto the schedule, we would have to correctly choose OT Paid, or OT Comp and sometimes errors were made that we would have to correct. It was a very easy process for the staff."
Capt. Derek Carson with Pinecroft Sedgefield Fire District, just outside Greensboro, NC, said Extra Hours would save time and provide greater accountability for their 47 full-time firefighters once it's rolled out to all three shifts at five stations. Members of B Shift have been testing it for two weeks. On one day alone, nine firefighters used it to log overtime.
Previously, Carson said he'd created a "supplemental time form" to where our firefighters would fill that out and submit it, anytime they had extra hours. The supervisor would then go in, see the submission, and then manually enter those onto the schedule for every person. So when this Extra Hours feature was finally rolled out a month or so ago, it's streamlined what we were already doing."
"The good thing about it being web-based and being able to utilize it from our phones, (firefighters) can do everything when they get back to the station -- laying in bed if they need to. It's that easy for 'em," Carson said.
"The second feature that we really like is how (OT) differentiates from the normal schedule, where it drops it down to the bottom of the schedule for us just like a "time off" or "event" or a "trade" so that visually, when you're lookin' at it, you can see those, or if someone doesn't want to see them, they can simply uncheck that box under the Edit feature," he said.
Carson said his test group picked up on the program change quickly.
"The video you guys put out was very beneficial for us because a lot of times we're trying to explain it to our personnel through a training class, but having multiple stations, getting all those personnel together is difficult," Carson said. "I could shoot (the video link) out to our shift commanders, and they easily disseminated that between their crews."
"We just recently began using the new extra hours feature. It has replaced our need to have officers fill out an overtime form that we had created in Aladtec," writes Lt. Bryan Hasse with Town of Beloit (WI) Police Dept. "So far the officers and my administrative staff like the new feature."
Aladtec, Inc. is headquartered in River Falls, Wis. The software was developed in 2005 to solve scheduling problems at a rural ambulance service. The firm has continued to grow and now serves more than 2,200 fire, police, EMS, dispatch- and healthcare facilities across the U.S. and Canada.
For more information, visit http://www.aladtec.com, or call #888-749-5550.