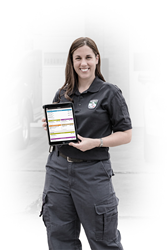 The Aladtec system is reasonably priced and when compared against staff-hours used to set schedules and set payroll. It is well worth the investment. -- Albert Beardsley, Chief, Georgetown (MA) Fire Dept.
NORWICH, Conn. (PRWEB) May 22, 2019
Originally named Connecticut EMS Expo, the upcoming EMS PRO conference has morphed into the most extensive Emergency Medical Service convention in New England. It provides a three-day venue for learning, fellowship, and commerce in the 38,000 sq. ft. hall at the Foxwoods Resort Casino on the Mashantucket Pequot Reservation.
A team from Aladtec, Inc., the premier provider of cloud-based scheduling and workforce management software to public safety agencies, will be among some 130 vendors showcasing products and services during the show. More than 3,000 EMS professionals are expected to attend.
This will be Aladtec's second visit to EMS PRO Expo, but the software-provider is no stranger to New England. Currently, 175 EMS, fire, police and sheriff's departments, dispatch centers and healthcare facilities across six northeastern states use Aladtec's subscription software to create schedules, allow staff to initiate shift trades and swaps, request time-off and log overtime hours, manage certifications, create e-forms, and streamline other tasks.
"Budgets are tight, and I only spend money on items that will produce the best bang for our buck," said Albert Beardsley, Chief at Georgetown Fire Department, Georgetown, Mass. "The Aladtec system is reasonably priced and when compared against staff-hours used to set schedules and set payroll. It is well worth the investment."
Watch this short video of how Aladtec has saved Great Falls (MT) Emergency Services many hours, once spent developing and reworking staff schedules.
The EMS PRO gathering starts with a day of pre-conference workshops Wednesday, May 29, followed by three days of educational classes taught by a range of experts in the EMS field.
Keynote speaker is former Air Force Staff Sgt. Spencer Stone, who garnered international headlines in 2015 when he and his childhood friends, Anthony Sadler and Alek Skarlatos, thwarted a major terrorist attack on a Paris-bound train. An unarmed Stone rushed toward the danger, subduing and disarming a man wielding an assault rifle, pistol, box cutter and enough ammunition to kill everyone on board.
French President Francois Hollande later presented Stone with the nation's highest decoration, The Legion of Honor. Upon his return to the United States, he was honored in a ceremony at the Pentagon and was awarded the Airman's Medal and a Purple Heart. President Barack Obama also hosted the trio at the White House.
Senior Account Executive Nick Perricelli and Systems Specialist Matt Zinnel from Aladtec, Inc. will attend the conference. The men will be at Booth #310 in the Expo area to answer questions from existing customers and provide system demonstrations to anyone interested in learning more about how Aladtec can improve efficiencies and communication at their agency.
Aladtec, Inc., headquartered in River Falls, Wis., serves more than 2,200 Public Safety agencies and healthcare organizations. For more information about the affordable program, call 888-749-5550, or visit Aladtec.com to begin a free trial.