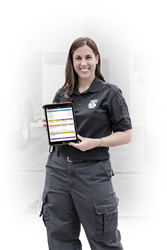 By switching to Aladtec I save at least 1 to 2 hours a day. Add that up, and it frees as many as 10 hours a week for me to concentrate on more important tasks. --Nate Lebeck, Operations Manager/Critical Care Flight Paramedic, Life Link III, Minneapolis
FORT WORTH, Texas (PRWEB) November 13, 2018
Emergency medical service professionals from across Texas will gather at the Fort Worth Convention Center next week to learn, trade ideas and visit with about 150 vendors -- including Aladtec, a premier provider of cloud-based scheduling and workforce management software for public safety.
Representatives Joe Ellis and Jake Tormoen from Aladtec, Inc., will be part of the two-day exhibition, meeting with existing customers and demonstrating Aladtec's unique scheduling, form-building, and communications tools to EMS leaders.
Ellis and Tormoen will offer demonstrations at Booth #657 during the conference. Expo hours are 1-7 pm, Sunday, Nov. 18, and 9:10 am to 1 pm, Saturday.
Aladtec's robust platform is designed to accommodate the non-traditional scheduling and workplace activities associated with public safety agencies. Aladtec software is used by 39 Texas EMS agencies and 44 more fire, law enforcement, dispatch centers, and healthcare organizations in the Lone Star State.
Most EMS agencies need to manage 24/7 shift rotations for both full-time and part-time employees. Communication tools embedded in the Aladtec platform enable staff to initiate swaps and trades, request time-off and receive schedule reminders while allowing administrators to make approvals and fill open shifts in minutes. Users access the secure system via any smartphone, tablet, or desktop computer connected to the internet.
"Prior to using Aladtec, I spent a lot of time dealing with trade requests from members. Now they take care of their own trades. It's also very easy to check the schedule from anywhere," said Dale Dow, deputy chief with Fitch Rona Fire & EMS, which serves the Dane County (WI) communities of Fitchburg and Verona. "We'll never go back to paper scheduling."
Other Aladtec features allow for easy tracking of certifications and licenses, creation and management of electronic forms, a member discussion forum, abundant storage for policies and procedures, and much more. Many customers say they pay for the low-cost annual subscription through time savings in just weeks or a couple of months.
The platform improves agency efficiency, reduces human error, and streamlines processes. After implementing Aladtec, agencies also report reduced overtime and reducing staff time spent on employee scheduling and management chores.
View a short video about how Aladtec has streamlined tasks at Great Falls (MT) Emergency Medical Services.
The three-day agenda at the Fort Worth conference includes dozens of workshops and lectures, plus award ceremonies and fellowship activities aimed at driving professional development.
One presentation by a nationally-recognized attorney -- himself a former paramedic, fire officer, and EMS executive -- is entitled "The 7 Biggest Threats to Your EMS Agency". The presenters, Steve Wirth, and associate Doug Wolfberg, promise a thought-provoking capsule version of the challenges, threats, and opportunities that await EMS organizations amid today's changing social, cultural and regulatory environment.
Other session titles include: Patient and Provider Safety in EMS: We all have room to improve; Breaking Bad News; Hands-on Orthopedic Assessment; Bleeding Control from the Inside Out; When Patients Say No: Liability with Patient Refusals; Slavery Today? Human Trafficking: What can EMS Do?, and many more.
To learn more about Aladtec now, visit http://www.aladtec.com, or call 888-749-5550 and a representative will be pleased to answer any questions or configure a 14-day free trial, customized to an agency's unique operating practices.
CONTACT INFORMATION:
Aladtec, Inc.
387 Arrow Court
River Falls, WI 54022
(888) 749-5550 Toll-Free
(715) 690-2300 Phone
steve@aladtec.com
http://www.aladtec.com