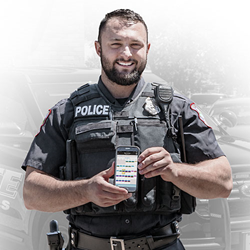 We can now customize and automate our scheduling process. We can also create, submit, review, and store many department forms in the Aladtec system and we are now able to produce reports that are useful for analytics in our department." -- Sgt. Matt Kennett, River Falls (WI) Police Dept.
ORLANDO, Fla. (PRWEB) September 27, 2018
An estimated 15,000 law officers and administrators from 90 countries are expected to attend the International Association of Chiefs of Police Conference, Oct. 7-9 at the Orange County Convention Center, just north of Walt Disney World.
Three representatives from Aladtec, Inc., will join some 650 vendors offering advice and solutions to attendees over three days in the Center's large exhibition area.
Aladtec is a SaaS provider of scheduling and workforce management software to more than 200 police departments in cities like Eau Claire, Appleton, Ankeny, Scottsdale, Beloit, and Provo. Agencies near the convention site using Aladtec include the Leesburg-, Lady Lake- and Dade City police departments.
During the IACP exhibition, Aladtec account executives Rob Kueppers and Erin Rabideaux, and systems specialist Matt Zinnel will offer system demonstrations and answer questions about software's ability to schedule complex rotations, automate trades, manage overtime, and meet minimum staffing needs. Visit the team at Booth #2468, located next to the Airbus Helicopters and U.S. Secret Service displays.
The exhibition is open from 10 am to 5 pm Sunday and Monday, Oct. 7-8 and from 10 am to 2 pm Tuesday. Aladtec representatives will meet with customers at their booth and offer attendees guided software system demonstrations. Interested police departments can also sign up for a no-cost, 14-day demo version to see precisely how Aladtec will improve their agency's processes.
Customers report Aladtec improves their department's efficiency, saves time, money, and improves morale through its transparency and ability to provide real-time schedule information to officers and their families.
Aladtec has some enthusiastic users in the law enforcement profession.
"We switched to Aladtec because the functionality of the software we used to have just wasn't consistent with our expectations. It didn't meet any other goal besides being a simple schedule display," said Sgt. Matt Kennett with the River Falls (WI) Police Dept. "With Aladtec, we're able to do much more than view the staff schedule online. We can now customize and automate our scheduling process. We can also create, submit, review, and store many department forms in the Aladtec system and we are now able to produce reports that are useful for analytics in our department."
"I'm not always this complimentary with vendors. Sometimes you get the product and then later, you're like 'Remember when we talked about this?' I'm very confident in saying it saves me 10 hours a week," said Dave Borchert, Commander with New Ulm (MN) Police Dept. "You definitely have a good product."
With Aladtec, it's easy to store and retrieve contact information, certifications, and training dates. Supervisors can send e-mail or text messages to individuals, groups or all users immediately. Users can create, store and upload files to electronic forms. The system has an optional time clock kiosk and meshes with a variety of payroll software systems. And officers love the fact it is accessible from any smartphone, tablet or desktop with internet access. A system log tracks all activity on the platform, providing airtight accountability.
Along with the giant trade show, the three-day conference includes dozens of educational presentations by experts from across America. Examples of topics include The Decision to Release Video of Another Police Department's Fatal Officer-Involved Shooting; Training and Tools to Protect Against Elder Abuse; Law Enforcement Suicide: Widows, Solutions, and Facts; and Marketing and Hiring: How To Stand Out When You Are a Small Fish in a Big Pond.
Gen. Stan McChrystal, retired Army general and former Commander of U.S. and International Forces in Afghanistan will provide the keynote address at the conference Monday morning. Upon his retirement in 2010, he founded Washington D.C.-based McChrystal Group, a consulting firm that improves the performance of organizations and develops the men and women who lead them.
McChrystal is expected to share lessons based on leading and innovating one of the world's largest organizations -- the U.S. Army.
"Successful leadership entails making an endless series of decisions, ranging from the complex and strategic to the simple and tactical. The answer is for leaders to have a process in place that helps them gather relevant information, adequately consider dissenting views from a mix of trusted sources, make a decision, communicate the decision, and act on it. Such a system does not eliminate risk entirely...but it does help to ensure that the decision made is well-informed, timely, and the best course of action in an evolving and complex environment," McChrystal wrote recently.
Aladtec, Inc., is headquartered in River Falls, Wis. For more information about their affordable program, call 888-749-5550 or visit Aladtec.com to try a free demonstration.