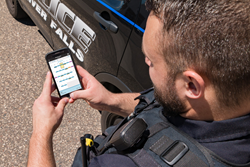 Our officers absolutely love the software. They can access their schedule, see their time off balances, request time off, sign up for open shifts. - Lt. David Guerrera, Cortland (NY) Police Dept.
JACKSONVILLE, Fla. (PRWEB) May 14, 2019
As law enforcement agencies expand their use of technology to enhance services and solve crimes, representatives from Aladtec, Inc. will join an assembly of experts and exhibitors offering advice and solutions during the International Association of Chiefs of Police Technology Conference, May 20-22 at the Prime F. Osborn III Convention Center.
Aladtec is a leading provider of scheduling and workforce management software to more than 200 police departments in cities like Eau Claire, Appleton, Scottsdale, Beloit, Provo, and Dade City.
During the IACP exhibition, Aladtec representatives Ashley Stone and Moriah Bolton will offer system demonstrations and answer questions about the software's ability to schedule complex rotations, automate trades, record and manage overtime hours, and meet minimum staffing needs. Visit Stone and Bolton at Booth #407.
With Aladtec, it's easy to store and retrieve contact information, certifications, and training dates. Supervisors can send e-mail or text messages to individuals, groups or all users instantly. Users can create and upload files to electronic forms. The system has an optional time clock kiosk and meshes with a variety of payroll software systems. And officers love the fact it is accessible from any smartphone, tablet or desktop with internet access. A system log tracks all activity on the platform, providing airtight accountability.
Aladtec has some enthusiastic users in the law enforcement community.
"Before Aladtec, we used an Excel spreadsheet for scheduling and tracking hours. It would take two to four hours depending on the number of overtime and training slips, plus many hours to create the schedule for each year," said Paul Adams, Deputy Chief of Police, Lincoln (IL) Police Dept.
"We were looking for something that was feature-rich, but easy for our officers to use. Since implementing Aladtec, the process pretty much takes care of itself, and I spend about 10 minutes on exporting data, so I have much more time to spend on other responsibilities."
"Our officers absolutely love the software. They can access their schedule, see their time off balances, request time off, sign up for open shifts. Our command staff loves being able to access the software remotely. Our payroll personnel is better able to complete our biweekly payroll," said Lt. David Guerrera with the Cortland (NY) Police Dept. "And I should add that the Aladtec software was less than half the cost of the other two vendors that we tested and considered."
This year's IACP theme, Technology into Action, focuses on how the law enforcement profession is utilizing technology to enhance services and communication and to transform agencies and communities. The event provides a venue for officers to learn how to use technology to create efficient solutions to old problems and keep pace with sophisticated cyber-enabled crimes.
Last year's conference featured 750 attendees, 40-plus educational presentations, and 75 industry-leading exhibitors.
Keynote speaker for the conference is Harald Arm, Director of Operational Support and Analysis for INTERPOL. He's expected to discuss emerging technologies and its impact on global policing. Arm had 20-plus years of policing experience with the German Bundeskriminalamt (BKA) before accepting his current position in late 2017.
Arm has post-graduate degrees in economics, police management, and public administration. He is responsible for supporting law enforcement officers in ongoing investigations and crisis response, involving police forensics, new identification technologies, police data management, analysis, fugitive investigative support, and border management.
Aladtec, Inc. is headquartered in River Falls, Wis. For more information about the affordable program, call 888-749-5550, or visit Aladtec.com to sign up for a free trial.