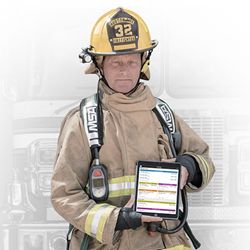 The time savings is unbelievable. I cut my phone calling time into a third of what it used to be. The sign-up feature is so easy, on any computer, anywhere that you have computer access. The response from our team is, 'We really like it.' Deb Klages, former officer, Pecatonica (IL) Fire Protection
PEORIA, Ill. (PRWEB) October 06, 2018
Fire department leaders from across Illinois will head to Peoria Oct. 14 as the Illinois Fire Chiefs Association gathers for the three-day run of its annual conference and trade show being held at the Peoria Civic Center. Two representatives from Aladtec, Inc., will be on-hand to visit with customers and demonstrate the firm's cloud-based scheduling and workforce management software.
Aladtec hopes to build on the reputation it has already established with 107 fire departments across the state who already use the platform to create and quickly modify complex schedules and electronic forms, while tracking certifications, licensing, training and allowing members the convenience to submit availability, request time off, and make shift trades online. The program is available anytime from any computer or mobile device with internet access.
Aladtec has evolved from a crew scheduling system in 2002, to an all-in-one robust and dynamic workforce management tool. Other features include a document library, member discussion area, robust reporting capabilities, an optional time clock kiosk, and communication tools that allow shift leaders to send single or group notifications via text and e-mail anytime.
Departments pay an annual subscription fee, based on how many members use the system. All set-up, training, and unlimited technical support are included in the agreement.
"We reduced scheduling time by at least 12 hours for each schedule, and we cut our payroll processing time by approximately 100 hours every month because we can export the payroll data from our Aladtec system," commented Battalion Chief Mike Majercik of the McHenry (IL) Township Fire Protection District. "Also, the accuracy of our payroll increased, since we weren't keying in the payroll data by hand anymore. Employees are much happier when they're getting paid the correct amount and bosses are happier when you're not overpaying people!"
"I am amazed at how simple and easy the Aladtec system is," wrote Deb Klages, a former officer with the Pecatonica (IL) Fire Protection District.
"The time savings is unbelievable. I cut my phone calling time into a third of what it used to be. The sign-up feature is so easy, on any computer, anywhere that you have computer access. The response from our team is, 'We really like it.' I like the report function also, at the end of the month your hours are totaled for you. It is time-effective and very inexpensive. We love it."
Erica Hawkins, a Senior Account Executive with Aladtec, will be accompanied by Systems Specialist Eric Hahn at the trade show. The pair will meet with existing customers and provide demonstrations to others interested in learning more about the system. Hawkins can also arrange to create free 14-day demonstrations, customized with a department's unique roster and scheduling scheme.
The conference officially opens Monday, Oct. 15, with a keynote address by Dr. Burton Clark. Clark is the author of "I can't save you, but I'll die trying: The American Fire Culture."
He is a 45-year veteran of the fire service and seasoned educator on topics of teaches fire service research, safety, culture, and professional development.
For more information about Aladtec or to try a demonstration immediately, visit http://www.aladtec.com, or call (888) 749-5550 and speak with Hawkins or another representative to activate a free trial.
###
CONTACT INFORMATION:
Aladtec, Inc.
387 Arrow Court
River Falls, WI 54022
(888) 749-5550 Toll-Free
(715) 690-2300 Phone
(801) 406-5550 Fax
steve(at)aladtec.com
http://www.aladtec.com