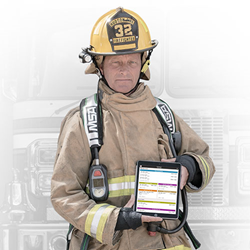 'It streamlined what was once a chore. I believe that if they took Aladtec's Fire Manager away from us, there would be a mutiny.' Jerry Craddock, FF-P, Mentor (OH) Fire & Rescue
ST. PAUL, Minn. (PRWEB) October 04, 2018
Health, wellness, and education are themes Minnesota Fire Chiefs Association members will hear championed when they gather Oct. 10-13 for their annual conference and expo at the RiverCentre.
Along with education and fellowship, department leaders will shop products and services offered by dozens of vendors -- including Aladtec, the premier provider of scheduling software and workforce management solutions for public safety.
Conference attendees are invited to stop by the Aladtec display during the trade show, from noon to 7 p.m., Thursday, Oct. 11, and from 8 a.m. to 1:30 p.m., Friday, Oct. 12. Senior Account Representative Brad Parmeter and Support Specialist Nancy Newton will provide demonstrations of the software and answer any questions.
The Aladtec system easily handles the complex scheduling and unique rotation requirements common in fire service. Its features allow members to submit availability, request time off and initiate shift trades -- all from a smartphone, tablet or desktop. It helps leaders monitor and meet minimum staffing requirements, helps control overtime, integrates with payroll, and allows agencies to track certifications and licensing. Aladtec e-forms speed up rig checks and provide airtight documentation.
Firefighter-paramedic Jerry Craddock recalls the hassles of trying to check a schedule, request time off or swap a shift before Mentor (OH) Fire & Rescue subscribed to Aladtec. He'd either need to drive to the station or phone in to check a paper schedule posted somewhere.
"It was crazy, but when we got Aladtec, it all became so organized," said Craddock. "There was quick acceptance. It streamlined what was once a chore. I believe that if they took Aladtec's Fire Manager away from us, there would be a mutiny."
Watch this short video to see how the Maplewood (MN) Fire Dept. uses Aladtec to schedule multiple crews at several stations.
Other program highlights for attendees include discussions on legislative issues, advice on gaining community support for construction of a new fire station, cancer prevalence and prevention as it relates to fire service, PTSD and firefighter mental health, and how department leaders can engage and keep non-career firefighters motivated to serve their communities for many years.
Aladtec is proud to have 26 fire departments in the greater Twin Cities area as customers, and hundreds more across the U.S. across the U.S and Canada.
For a free demonstration, visit http://www.aladtec.com. Call 888-749-5550 with questions, or to arrange a customized demonstration for your agency.
###
CONTACT INFORMATION:
Aladtec, Inc.
387 Arrow Court
River Falls, WI 54022
(888) 749-5550
(801) 406-5550 Fax
steve(at)aladtec.com
info(at)aladtec.com