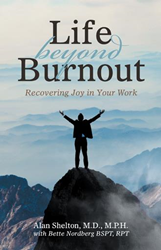 TACOMA, Wash. (PRWEB) September 05, 2019
As a physician and lecturer, Alan Shelton, MD, MPH, experienced the pain of burnout — dreading work and losing the joy in his chosen profession. In his latest book release, he teaches those who work in the medical field and human services how they can find "Life beyond Burnout" (published by Balboa Press).
The self-improvement book is inspired by Shelton's journey from burnout to recovery of enthusiasm for work from burnout. It offers a Native American perspective and an inner life approach to recovery. He emphasizes how nurturing and developing spirituality can lead to enthusiasm and joy in one's work.
To purchase and know more about the book, readers can visit https://www.amazon.com/Life-beyond-Burnout-Recovering-Your/dp/1982210486.
A snippet from Shelton's encounter with the Native American medicine man:
Abruptly, he stopped singing and proclaimed, "Your spirit was gone. I put it back."
In my skeptical frame of mind, the statement struck me as amusing. Where had it gone? I wondered. I didn't feel anything. Not wanting to appear disrespectful, I decided not to ask questions. Instead, I graciously thanked the healer and his son and left the building. As I walked across the parking lot to my own clinic, I reflected on the experience. I decided to call the encounter a learning experience. At least now I understood what occurred when my patients went to the healer. I returned to work with the expectation that nothing had changed—that is, until I began seeing patients.
"Life beyond Burnout"
By Alan Shelton, MD, MPH
Softcover | 5.5 x 8.5in | 190 pages | ISBN 9781982210489
E-Book | 190 pages | ISBN 9781982210502
Available at Amazon and Barnes & Noble
About the Author
Alan Shelton, MD, MPH, lectures and teaches on the subjects of stress and burnout. He attended the Oregon Health and Science University and completed his family practice residency at St. Francis Regional Medical Center in Wichita, Kansas. This was followed by a master's degree in public health from the University of Washington School of Medicine. Today, as a family practice physician, Shelton serves as clinical director at the Puyallup Tribal Health Authority, where he has worked in primary care for more than 30 years. He also has been involved in teaching family practice residents at the Puyallup Tribal Health Authority and at Multicare Hospital in Tacoma, Washington. His own experience with burnout and recovery inspired him to share with others the essential role of spirituality in increasing satisfaction and fulfillment at work. His first book, "Transforming Burnout: A Simple Guide to Self Renewal," began this journey. In the 10 years since its publication, Shelton has continued to focus on the topic of overcoming burnout, speaking to new audiences, gathering new anecdotes and perfecting the techniques and skills all service professionals need to cope. He has compiled these added experiences and stories in this new book. Shelton feels blessed to be married to his wife, Shari, for 42 years and very much enjoys spending time with his six adult children, their spouses and six grandchildren.