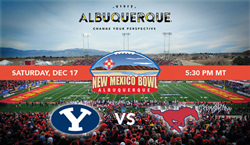 Albuquerque is honored to again serve as the host of this prestigious bowl game, and we look forward to the excitement and energy that this strong matchup will bring to the city.
ALBUQUERQUE, N.M. (PRWEB) December 07, 2022
The field is set for the 17th annual New Mexico Bowl, and the city of Albuquerque is ready to welcome teams and their fans. Brigham Young University (BYU) Cougars and Southern Methodist University (SMU) Mustangs have officially accepted their invitations to one of the first games of the collegiate bowl season. Kickoff is set for 5:30 p.m. MST (7:30 EST) on Saturday, Dec. 17, at University Stadium. Activities will begin with the pregame Fan Fest, which will take place from 1:30-5:30 p.m. The game will be broadcast to a national audience live on ESPN Radio, and, for the first time, will be broadcast on primetime ABC, allowing for Albuquerque and New Mexico to be showcased within a premium window via a major television network.
"We are proud to have another thrilling matchup for the New Mexico Bowl," said Jeff Siembieda, New Mexico Bowl executive director. "Both of these outstanding teams have had excellent seasons, and this should be an exciting game. We look forward to New Mexicans along with BYU and SMU fans descending on University Stadium in beautiful Albuquerque, New Mexico."
Tickets are available online at newmexicobowl.com or golobos.com, or by calling 505-925-LOBO (5626) or the New Mexico Bowl office at 505-925-5999.
For fans planning a trip to Albuquerque for the big game, Visit Albuquerque makes it easy to find affordable deals and hotel packages – even if it's just a quick weekend getaway. Check out the 2022 New Mexico Bowl webpage for special rates at hotels and coupons from local retailers, as well as information on things to do, events, dining, attractions and more.
"Albuquerque is honored to again serve as the host of this prestigious bowl game, and we look forward to the excitement and energy that this strong matchup will bring to the city," said Tania Armenta, president and CEO of Visit Albuquerque. "Albuquerque has so much to offer—from traditional holiday experiences to outdoor adventures—and we can't wait to welcome the teams and their fans to our city during this magical season."
With over 310 days of annual sunshine, sweeping blue skies and an abundance of open space, Albuquerque's backyard is a natural playground. Bike the more than 400 miles of trails, explore the Sandia Mountain Wilderness or hike within the Bosque (forest) along the legendary Rio Grande. Top off the day with an award-winning local brew or glass of flavorful wine at one of the city's many breweries and wineries.
One of the best times to visit Albuquerque is during December, when holiday traditions come alive. Take in a holiday performance, experience the River of Lights at the ABQ BioPark Botanic Garden—the largest walk-through holiday production in the state—find one-of-a-kind gifts for loved ones at local holiday markets and be sure to sample traditional New Mexican cuisine. For a full list of holiday activities, explore Visit Albuquerque's website.
About Visit Albuquerque
Visit Albuquerque is an accredited destination marketing organization (DMO), and a private, not-for-profit organization [501(c)(6)]. The mission of Visit Albuquerque is to stimulate economic growth by marketing Albuquerque as a convention, sports and visitor destination. For more information, go to http://www.VisitABQ.org.
About ESPN Events
ESPN Events, a division of ESPN, owns and operates a portfolio of collegiate sporting events nationwide. In 2022, the 32-event schedule includes three early-season college football kickoff games, 17 college bowl games, 11 college basketball events, and a college softball event, which account for approximately 400 hours of live programming, while reaching nearly 64 million viewers and attracting over 800,000 annual attendees. With satellite offices in more than 10 cities across the country, ESPN Events builds relationships with conferences, schools and local communities, as well as providing unique experiences for teams and fans. For more information, visit the official website, Facebook, Twitter or YouTube pages.