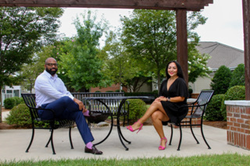 CHARLOTTE, N.C. (PRWEB) July 20, 2020
As one of the only senior living communities actively publishing a podcast, Aldersgate Life Plan Community is leading the charge to tear down ageism and educate society by sharing stories that present a positive view of aging. The latest episode of 'Aldersgate OnAir' features Boris Henderson and Veronica Calderon, as they share their deeply personal experiences of growing up in America as people of color in poverty.
Henderson and Calderon work in pivotal roles at Aldersgate. Henderson is the Chief Strategy Officer and Calderon is the Chief Diversity, Inclusion & Equity Officer. As an Ecuadorian immigrant and a man of color, Calderon and Henderson share their deeply personal stories about growing up in an America that treats people differently based on the color of their skin. They also delve into what the Aldersgate community is doing to make a difference. Through their actions and words, they are working to make their local community and the world a better place.
The episode explores the American Dream and what it means to be a "Dreamer." James Truslow Adams coined the term "The American Dream" in his 1931 book The Epic of America. His American Dream is "that dream of a land in which life should be better and richer and fuller for everyone, with opportunity for each according to ability or achievement...regardless of the fortuitous circumstances of birth or position."
Veronica Calderon reflects on the American Dream as she shares how she immigrated to America from Ecuador. Calderon states, "The American Dream can be very painful and sometimes people just don't see the road that leads you to it, but they just see now, how far we've come." Calderon discusses the importance of education and educating ourselves around our biases. "We are not asking for more, we are just asking for equal treatment," she adds.
Henderson shares his insights and perspective as a Black man growing up in Charlotte. He says, "It is the great hope of every Black man I know to have an equal chance and not to live in fear if a wrong move is made." He shares the importance of mentors and how his mentor transformed his life.
"We have to cross the artificial barriers that we made so we can come to the realization that human beings are human beings and let's make judgments on how you treat me as a human being," Henderson adds.
Calderon also shares, "To whom much is given, much is required. For both Boris and me, we've had mentors and angels along the way who've helped us and we don't take that lightly. There's an urgency in us to pay that forward. We believe being 'not racist' is no longer enough. Being "anti-racist" is an active commitment requiring both inner and outer work on ourselves and our communities."
Henderson and Calderon answer the difficult questions about what it will take to leave behind outdated ways of thinking and acting to come up with some real-world, collaborative solutions. They discuss what it takes to be a good mentor, the importance of education and how doing better fuels the motivation to move forward.
The collaborative team at Aldersgate has adopted the following position on racial justice:
Aldersgate and Generations are committed to being Antiracist. They are going to listen, learn and act. They will use their unearned privilege to identify and dismantle inequitable systems for the benefit of their elders, their staff team members and their community. #BlackLivesMatter
Henderson and Calderon speak unedited, honestly and from the heart because the best way to solve a problem is to start with the truth. Listen to this Racial Justice episode of the Aldersgate OnAir podcast at https://aldersgateuniversity.com/racialjustice/. Aldersgate OnAir provides the community with intriguing stories about Aldersgate's unique philosophy and perspectives on ageism, as well as how Covid-19 is affecting senior living communities. Listen to all the episodes at https://aldersgateuniversity.com/podcast/.
Aldersgate is an inclusive community that values the richness of diversity and engages people of different thoughts, lifestyles, skills, talents and resources in creating communities and services. Each individual has a voice and is valued. The residents at Aldersgate are actively involved in society through their volunteer efforts, tutoring, and more. Aldersgate shows the impact senior living communities can have on society and what it means to give a voice to older adults, the unexpected loudest protesters.
Aldersgate is a nonprofit Life Plan community that has been an integral part of the Charlotte, NC, community for more than 70 years. Aldersgate honors all elders and is actively involved in redefining and shaping the future of senior living through their commitment to creating and fostering, diverse, caring communities where everyone has a voice and value. The community offers an enriching, quality living and working environment for older adults and society at large, regardless of age, color, gender or orientation. Aldersgate is committed to being antiracist and uses its unearned privilege to identify and dismantle inequitable systems for the benefit of its elders, staff team members and community. This nonprofit Life Plan community employs people from 34 different countries. For additional information, visit https://aldersgateccrc.com/.