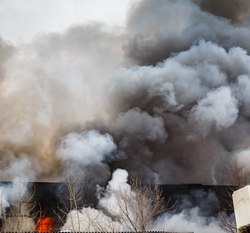 ALE is a decision framework to help you decide what type of preventative or recovery control you're going to put in place.
HOBOKEN, N.J. (PRWEB) March 14, 2019
A NYC area manufacturing IT consultant and tech innovator shares a valuable tool for preventing catastrophic business losses in a new article on the eMazzanti Technologies website. Calculating annualized loss expectancy (ALE) for major business risks helps manufacturing business leaders make better decisions on controls the article asserts.
The informative article cites the examples of a paper company warehouse fire and catastrophic data loss from hackers or disaster as use cases for the practical ALE decision framework. The company urges readers to consider data loss as a major risk and to seek help to calculate the ALE if needed.
"ALE is a decision framework to help you decide what type of preventative or recovery control you're going to put in place," stated Carl Mazzanti, President, eMazzanti Technologies. "Paper factories have fires. You could buy and install sprinklers throughout the whole building, but it may not be the best solution."
Below are a few excerpts from the article, "ALE - A Simple Tool to Prevent Catastrophic Business Loss."
"A paper manufacturing customer of ours has fires break out multiple times a year. The 2,000-pound rolls of paper start to decompose. They get really warm and some of them light on fire. To contain the fires, they have an employee who walks the entire factory all day, every day, seven days a week, 365 days a year."
"The factory's control is full-time employees because the sprinklers don't always work, and the water destroys the paper. They'd rather have a guy who runs up to one roll with a fire extinguisher and puts it out. It may seem like that solution is too expensive, but the practice reduces their overall prevention cost and fire losses."
Better Decisions About Controls
"Calculating an ALE for your major business risks means making better decisions on controls. For many, it's the answer they have been seeking for some time to the question, 'How can I make a decision in a formal way about what I need to do to protect my interests.'"
"Being able to put numbers behind the decision process not only helps my organization, but those we service make good, viable long-term decisions about their controls, both preventative and recovery for their organizations."
Manufacturing Data Loss Prevention Experts
A major risk that confronts almost every manufacturing business is catastrophic data loss. It may be caused by ransomware, hackers or a natural or human-triggered disaster. Few manufacturing businesses survive catastrophic data loss without the adequate preventative and recovery controls in place.
The experts at eMazzanti Technologies provide manufacturing cyber-security technologies to detect and block attacks. In addition, they design multi-layered proactive cyber-defense and cloud backup solutions to mitigate manufacturing cyber-security risk, including a variety of manufacturing managed services solutions and 24/7 network monitoring.
Related resource information:
3 Tips for Stronger Supply Chain Cyber-Security
eMazzanti Ranked #1 New York City Managed IT Service Provider
About eMazzanti Technologies
eMazzanti's team of trained, certified IT experts rapidly deliver increased revenue growth, data security and productivity for clients ranging from law firms to high-end global retailers, expertly providing advanced retail and payment technology, digital marketing services, cloud and mobile solutions, multi-site implementations, 24×7 outsourced network management, remote monitoring and support.
eMazzanti has made the Inc. 5000 list eight consecutive years, is a 2015, 2013 and 2012 Microsoft Partner of the Year, the #1 ranked NYC MSP, NJ Business of the Year, 5X WatchGuard Partner of the Year and one of the TOP 200 U.S. Microsoft Partners! Contact: 1-866-362-9926, info(at)emazzanti(dot)net or http://www.emazzanti.net Twitter: @emazzanti Facebook: Facebook.com/emazzantitechnologies.