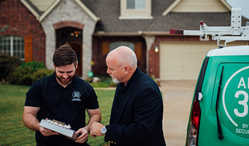 As part of the community, Alert 360 recognizes the critical importance of giving back to Austin non-profits and other organizations that help make the community strong and provide support to Austin residents in need. said Richard Ginsburg, president, and CEO of Alert 360
AUSTIN, Texas (PRWEB) June 03, 2019
Alert 360 Home Security, one of the nation's largest providers of home security systems and smart home services in the United States, announces its Silver Level sponsorship of The Refuge Corporation's third annual 5K Run/Walk for the Homeless. The Austin 5K will take place at the Killeen Athletic Complex's Andy K. Wells Hike & Bike Trail on June 8, 2019. The Refuge Corporation, helping to preserve family and community, is an agency of United Way of Greater Fort Hood, located in Copperas Cove, Texas.
"Our Alert 360 Austin team is honored to provide home security and smart home systems to so many homes and businesses in the Austin area. As part of the community, Alert 360 recognizes the critical importance of giving back to Austin non-profits and other organizations that help make the community strong and provide support to Austin residents in need," said Richard Ginsburg, president, and CEO of Alert 360.
The Alert 360 Home Security Austin branch office is located at 11500 Metric Blvd., Suite 215. In Texas, the company also operates in Dallas, Fort Worth, Houston, and San Antonio and across the country.
All Alert 360 offices offer a complete line of home security cameras, business security, energy management, smart home automation products, and services. Alert 360 features interactive wireless security, a free mobile app, smart home video, remote access, water detection devices, video doorbells, and 24/7 alarm monitoring. Alert 360 also provides professional installation or integration of connected devices, such as sprinkler systems, thermostats, sound systems, Amazon Echo, Google Home and more.
Alert 360 Austin office: We are one of the largest residential and commercial security systems providers in Austin and the greater Austin area. All local Alert 360 Austin employees are bonded, fingerprinted, insured, drug tested, and licensed by the state of Texas. Our team of security consultants are experts in designing home security systems from the basic to the most complex and custom solutions. Whether you need wireless security, access control or a video surveillance system, the Alert 360 team has over 100+ combined years of employee security experience that you can trust.
About Alert 360.com
Founded in 1973 in Tulsa, Okla., and evolving from Guardian Security Systems and Central Security Group, Alert 360 is one of the nation's oldest-licensed alarm monitoring providers. Today, the company is the fifth largest provider of monitored security and smart home solutions to homes in the United States. Alert 360 operates a monitoring and customer service center in Tulsa, Okla., and has nearly a quarter of a million customers in across the country.
The company has achieved Five Diamond alarm monitoring designation and has been named a 2016 Inc. 5000 "Fastest-Growing Privately Held Company in America" and a "Best Places to Work in Oklahoma" in 2016, 2017 and 2018.