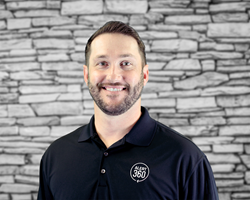 "It's an extremely exciting time to be a part of our growing team, and we're thrilled to welcome Travis on board." Keith Patterson, Alert 360 Chief Operating Officer
TULSA, Okla. (PRWEB) October 15, 2018
Alert 360, the fifth largest provider of security systems and smart home services to residential customers in the United States, has announced Travis Miller as vice president of dealer development for its leading Authorized Alarm Dealer Program.
In this newly created role, Miller will be responsible for increasing Alert 360's existing dealer production and the number of new authorized dealers. In addition, he will help grow Alert 360's acquisition and alarm funding channels.
In his most recent role as vice president of sales & dealer development at Brinks Home Security, Miller oversaw the sales growth and development of the company's dealer program. Prior to Brinks, he owned Stone Security, which was one of the largest dealerships in Utah. During his tenure at Stone Security, he also helped build enGarde, a proprietary CRM that is widely used by security dealers nationwide. In 2011, Miller was recognized by Security Systems News as one of the "Top 20 under 40" executives to watch in the industry.
"We place extreme value on our dealer relationships at Alert 360," said Keith Patterson, Chief Operating Officer at Alert 360. "Expanding our talented and dedicated dealer team to include Travis in an executive role supports our efforts to provide the industry's most beneficial dealer program, demonstrates our appreciation for our valued dealer partners, and signifies our push for growth.
"With more than 15 years building winning teams and successfully performing at the highest levels within respected dealer programs, we're tremendously excited for the perspective Travis will contribute."
"In addition, with the recent announcement of Alert 360 as our updated company name, aligning our visual identity with our expanded product line, our more than 200 Authorized Dealers are now able to provide the latest total connected home services and provide input on future technology," Patterson said. "It's an extremely exciting time to be a part of our growing team, and we're thrilled to welcome Travis on board."
Alert 360's authorized alarm dealer program was one of the first and remains one of the largest in the country. In addition to its Authorized Alert 360 Dealer Program, the company's core services include, professional consulting and installation of security and smart home systems across 26 states; Alert 360 interactive security; home automation; Alert 360 Video security cameras and recorders for homes and businesses; video doorbells; remote access; energy management solutions; free Alert 360 and Alert 360 Video mobile apps; 24/7 alarm monitoring; and integration of connected devices, such as sprinkler systems, thermostats, sound systems, Amazon Echo, Google Home, and more.
In September, the company announced the debut of Alert 360 as its new company name and logo. The more innovative Alert 360 brand, which the company introduced three years ago as a next-generation product and service, reflects the company's evolving smart home product line and transformation beyond offering basic security systems. That same month, Alert 360 also obtained the prestigious "TMA Five Diamond Monitoring Center" designation from The Monitoring Association.
Alert 360 operates offices in Austin, Texas; Clinton, Okla.; Dallas; Fort Worth, Texas; Houston; Kansas City, Kan.; Miami, Okla.; Oklahoma City; Phoenix; Sacramento, Calif.; San Antonio; San Diego; Sarasota, Fla., Springfield, Mo.; Tulsa, Okla.; and Wichita, Kan. Alert 360 local branches around the country are backed by its UL Listed Alert 360 alarm monitoring and customer care centers in Tulsa, Okla., and Irving, Texas. Learn more at Alert360.com.
About Alert 360
Founded in 1973 in Tulsa, Okla., and evolving from Guardian Security Systems and Central Security Group, Alert 360 is one of the nation's oldest-licensed alarm monitoring providers. As the fifth largest provider of monitored security and smart home security and automation solutions to homes in the United States, Alert 360 offers solutions that keep families connected, protect the things you care about most, and provide convenience, comfort, and peace of mind – all backed by its own U.S.-based, Five Diamond-designated monitoring center, best-in-class technology, dependable service, and an A+ Better Business Bureau rating. The company also has been named a 2016 Inc. 5000 "Fastest-Growing Privately Held Company in America" and a "Best Places to Work in Oklahoma" in 2016, 2017 and 2018.
Dearler inquiries: Travis Miller, Travis.Miller(at)alert360.com Phone: 888-848-8851
Media inquiries: Robin Jacobson Lampe, Robin(at)WindCommunications.com Phone.: 785-221-6569